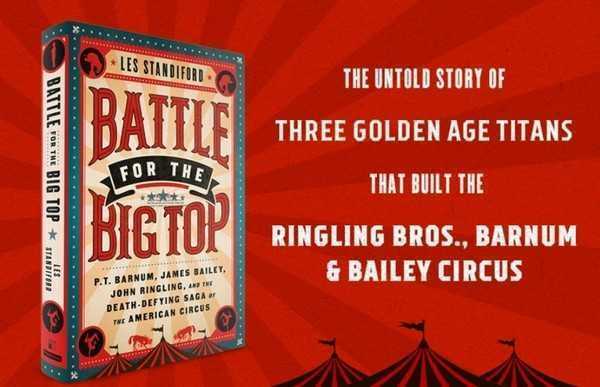 BATTLE FOR THE BIG TOP: il libro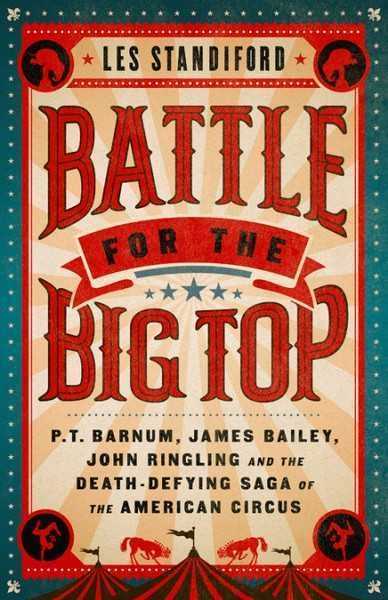 Lo scorso 15 giugno, è stato pubblicato un avvincente libro dal titolo BATTLE FOR THE BIG TOP, P.T. Barnum, James Bailey, John Ringling, and the Death-Defying Saga of the American Circus, che in italiano si può tradurre in BATTAGLIA PER IL GRANDE CIRCO, P.T. Barnum, James Bailey, John Ringling e la saga che sfida la morte del circo americano.
Il libro è stato scritto da Les Standiford, americano e docente di scrittura creativa presso l'Eckerd College di San Pietroburgo, in Florida e autore di libri di successo come Dickens – L'uomo che inventò il Natale.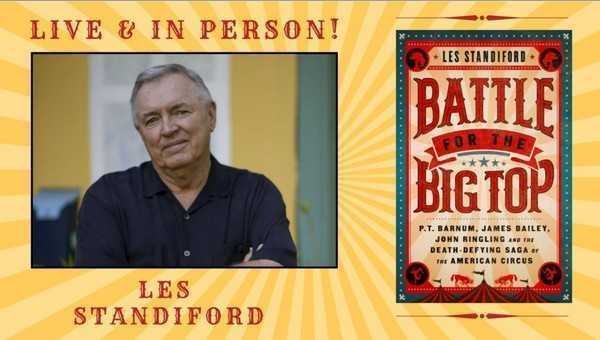 In Battle for the Big Top, l'autore bestseller del New York Times Les Standiford dà vita a un'era straordinaria in cui tre re del circo – James Bailey, P. T. Barnum e John Ringling – si contendevano il controllo del grande e influente circo americano. Alla fine, la rivalità di questi tre uomini ha portato alla creazione di un'istituzione che avrebbe superato ogni intenzione e, per 147 anni, avrebbe incantato una nazione.
Milioni di persone si sono sedute sotto il "tendone", osservando come i trapezisti scivolano e i clown intrattengono, ma pochi conoscono le storie accattivanti che stanno dietro agli uomini che con la propria creatività, ingegnosità e determinazione hanno creato uno dei passatempi più amati del mondo.
Ricco di dettagli sulla loro esibizione in continua evoluzione, acume per gli affari e magnetismo personale, questa narrativa in stile Ragtime delizierà e incanterà gli amanti del circo e chiunque sia affascinato dall'esperienza americana.
"Les Standiford ci porta sotto il magico tendone e dietro il sipario in questa narrativa riccamente ricercata e completamente coinvolgente che cattura tutti gli intrighi imprenditoriali e lo spirito del circo americano." —Gilbert King, autore vincitore del Premio Pulitzer di Devil in the Grove
Il libro al momento è disponibile solo in lingua inglese ed è acquistabile su diverse piattaforme on line. Per comodità vi riporto un paio di link dove poterlo ordinare in diversi formati: cartaceo, con copertina rigida, e-book., audiobook e audio CD.
Visita le nostre sezioni
per sfogliare lo spettacolo più bello del mondo
Per rimanere sempre aggiornati sulle tappe dei circhi italiani
Se questo articolo ti è piaciuto condividilo sui tuoi social utilizzando i bottoni che trovi qui sotto