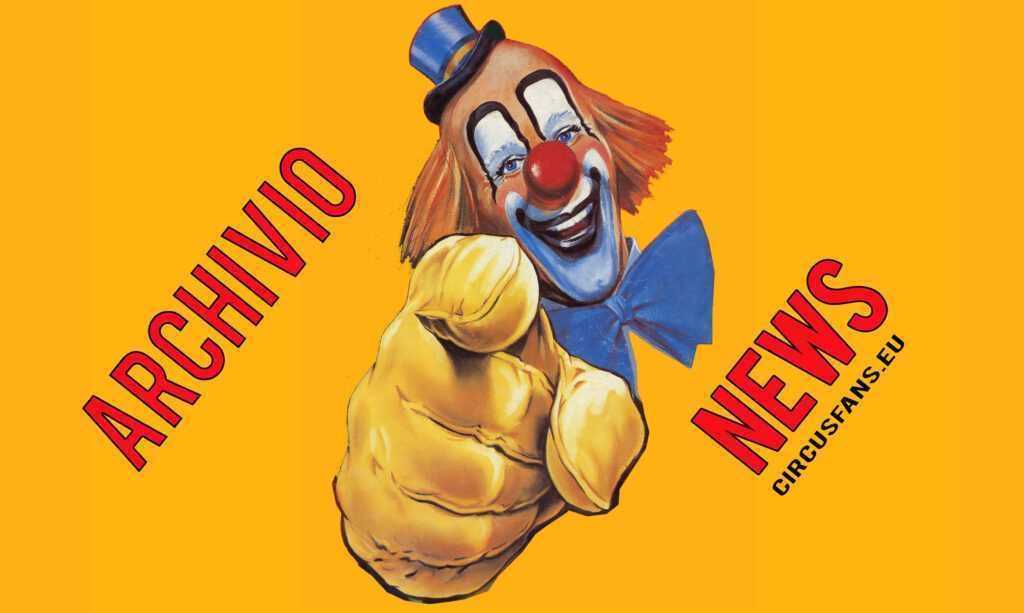 LESTRADE E IL CIRCO DEI MISTERI
Con il Natale in arrivo è tempo di regali. Per la collana &ldquoIl Giallo Mondadori&rdquo è appena stato pubblicato Lestrade e il circo dei misteri (Lestrade and the Sawdust Ring, 1993), tredicesima avventura del personaggio ricorrente di M.J. Trow.
Anche grazie al costo contenuto (&euro 5.90), questo libro può essere una simpatica idea regalo per noi appassionati di circo.
Qui di seguito vi allego il comunicato stampa della Mondadori per avere maggiori dettagli.
AV
Lestrade e il circo dei misteri
Il più grande detective del mondo (dopo Holmes)
La collana &ldquoIl Giallo Mondadori&rdquo di dicembre (n. 3186) presenta Lestrade e il circo dei misteri (Lestrade and the Sawdust Ring, 1993), tredicesima avventura del personaggio ricorrente di M.J. Trow.
La trama
Il cadavere giace all&rsquoobitorio sopra una lastra di marmo. Il volto fracassato con un oggetto pesante, il naso schiacciato fin quasi a scomparire. I denti rotti sotto le labbra bluastre. Sul petto due tagli diagonali che si intersecano, netti e precisi, inferti forse con un coltello da macellaio. Cavità vuote come quelle di un teschio al posto degli occhi, mangiati dai corvi nella brughiera dello Yorkshire. Sholto Lestrade, sergente del Dipartimento investigativo di Scotland Yard, non è un tipo impressionabile. Quello che davvero lo colpisce è scoprire che una seconda vittima, rinvenuta in un&rsquoaltra località della contea, presenta ferite simili. L&rsquoarma utilizzata, sostiene qualcuno, è una spada da cavalleria. Dettaglio interessante. Più interessante ancora, in coincidenza di entrambi i delitti si trovava nei paraggi il grandioso circo di lord George Sanger. Ed è qui, in questa cittadella itinerante popolata di elefanti e cammelli, nani e clown, tetra e luccicante al tempo stesso, che Lestrade dovrà cercare il bandolo della matassa.
L&rsquoincipit
&mdash Se n'è andato? &mdash ripetè il primo ministro. E poi di nuovo, come a rincarare la dose: &mdash Andato via?
Il viso arrossato dall'altra parte della stanza annuì.
&mdash Due parole curiosamente semplici. "Andato via&rdquo &mdash osservò il primo ministro. Be', in fondo, molto tempo prima, aveva scritto i migliori romanzi politici in lingua inglese. &mdash Non mi piace come si presenta questa situazione. Quando il comandante in capo dell'esercito britannico viene da me di sabbath&hellip ehm&hellip di sabato e mi dice che una certa persona se n'è andata, io sento puzza di guai.
Si appoggiò alla spalliera dell'ottomana, che prendeva il nome dall'impero che lui aveva sempre appoggiato, nella buona e nella cattiva sorte. L'impero malato d'Europa.
&mdash Forse farebbe meglio a raccontarmi tutto, Sua Altezza Reale.
Sua Altezza Reale capiva sempre quando il primo ministro era furioso, perché in quei casi la sua barbetta caprina aveva delle contrazioni, lui socchiudeva gli occhi e si rivolgeva alle persone usando i titoli formali che a loro competevano. "E allora?" si disse Sua Altezza Reale, sentendo che le spalline si tendevano mentre lui gonfiava il petto. Era il comandante in capo dell'esercito britannico, no? Era il duca di Cambridge, santo cielo! Il cugino della regina&hellip
&mdash Perbacco, George, l'avevo affidato a lei! &mdash Il primo ministro era esploso un po' prima del solito. &mdash Una cosa è avergli concesso qualche svago a Woolwich, ma come ha potuto perdere di vista quel piccolo aborto?
Extra
All&rsquointerno, il racconto La pista di Andrea Raggi, vincitore del premio Gran Giallo Città di Cattolica 2019.
Info
Lestrade e il circo dei misteri di M.J. Trow (Il Giallo Mondadori n. 3186), 304 pagine, euro 5,90 &ndash Traduzione di Mauro Boncompagni
Da www.thrillermagazine.it del 11/12/19
11/12/2019 10.30.01
Se questo articolo ti è piaciuto condividilo sui tuoi social utilizzando i bottoni che trovi qui sotto