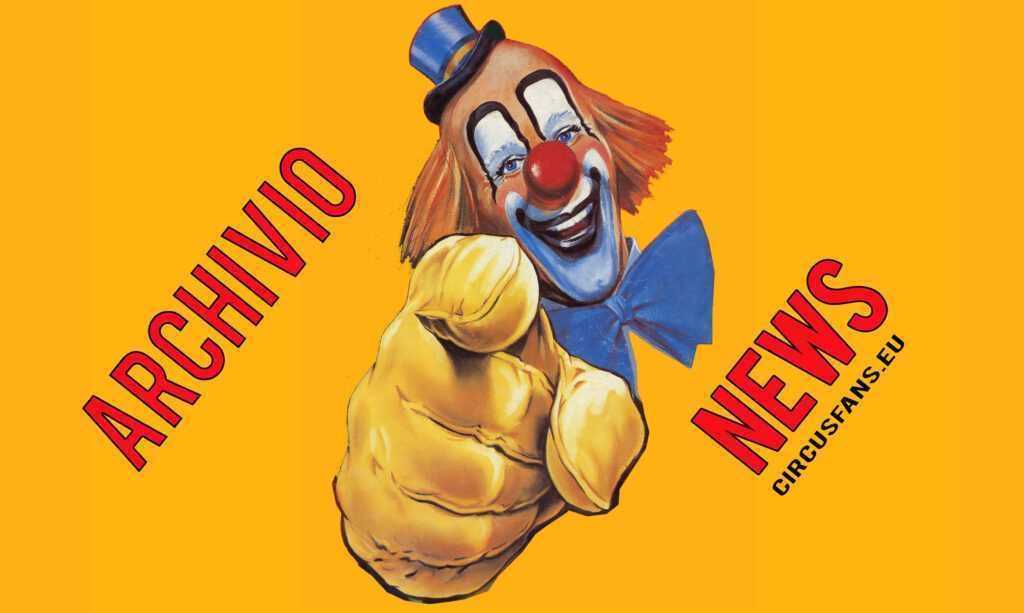 XIII Festival Internazionale del Circo
"Città di Latina"
Latina 13 / 17 Ottobre 2011
Comunicato stampa n° 16 – Venerdì 26 Agosto 2011
Salgono oggi a 20 i numeri ufficialmente ammessi al Festival Internazionale del Circo
Inseriti oggi nel cast del Festival tre numeri provenienti dalla Spagna, dall'Ucraina e dal Messico: la kermesse circense va connotandosi sempre più come un'occasione preziosissima per l'incontro tra differenti culture e diverse modalità dell'espressione artistica circense.
Kevin Rossi appartiene alla quinta generazione artistica di una storica famiglia circense italo spagnola. Appena diciannovenne, Kevin è già un talento nell'equilibrismo sul filo: il giovane artista presenta un classico dello spettacolo circense, impreziosendo la sua esibizione con una serie di accenti acrobatici tra i quali il salto mortale in avanti, considerato uno dei passaggi più pericolosi che si possano compiere sul filo. Coreografia, luci, colonna sonora e costumi fanno da cornice ad una esibizione capace di calamitare l'attenzione del pubblico.
Anastasia Nasridinova e Sergey Malyutin in arte sono il Duo Ars. Lei 26-enne, lui 21-enne, i giovani artisti ucraini hanno alle spalle una solida formazione nella ginnastica e negli sport acrobatici. Approdati al mondo del Circo hanno allestito in coppia dapprima un numero di tessuti e successivamente il numero di cinghie aeree con il quale sono presenti a Latina. La coreografia, le doti tecniche degli artisti e la colonna sonora, "Amore cannibale" della cantautrice italiana Gianna Nannini, creano un'atmosfera carica di passione.
I Rialcris sono tre artisti colombiani trapiantati in Messico. D'abitudine il mano a mano è la disciplina che, fra le arti circensi, meglio rappresenta l'acrobatica di coppia. Nel caso dei Rialcris invece, Alejandro, Cristian e Ricardo, reinterpretano il mano a mano presentando un'esibizione in trio. Vigore e potenza muscolare, mescolati con eleganza ed armonia, sono le parole chiave che meglio descrivono le caratteristiche di un'esibizione che appare condotta con facilità e leggerezza.
segreteria@festivalcircolatina.com
+ 39 0773 474000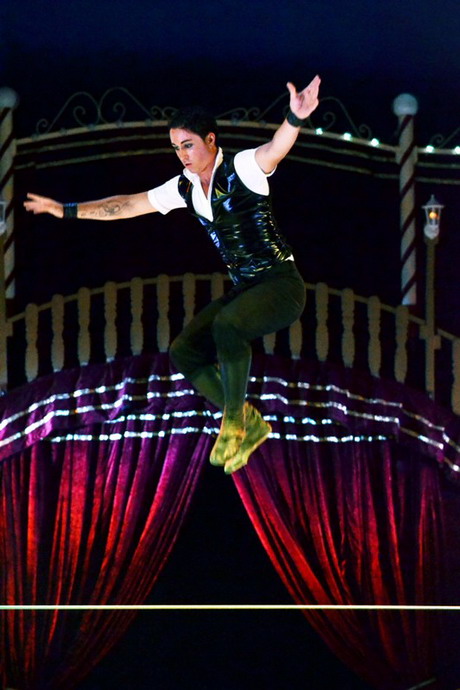 Kevin Rossi
13th International Circus Festival
"City of "
13th – 17th October 2011
Press Release n° 16 – Friday August 26th 2011
The International Circus Festival adds three more acts today, reaching a total of 20 officially confirmed numbers
Today three numbers, coming respectively from , and : this Circus event confirms its importance as an occasion that provides valuable opportunities for encounters between different cultures and different expressions of circus performance.
Kevin Rossi is a descendant of 5 generations of performers from an Italian-Spanish circus Family. Just 19, Kevin is already a talented tightrope walker: This young artist presents a classic circus discipline, enhanced by a series of acrobatic accents, including a forward somersault, one of the most difficult exercises to execute on the tightrope. Choreography, lighting, sound track and costumes frame this compelling performance.
Anastasia Nasridinova, 26, and Sergey Malyutin, 21, working under the stage name of Duo Ars, both have a solid training in gymnastics and acrobatic sports. They began their careers in the circus world with an aerial silks number, followed by the aerial straps number that they are presenting at . The choreography, the skill of the performers, and the soundtrack, "Amore Cannibale" by Italian singer-songwriter Gianna Nannini, create a thrilling mood.
Rialcris are three Colombian performers who live in . 'Hand to hand' is one of the most representative disciplines of the circus arts in pairs. In the case of Rialcris, however, it is reinterpreted as a three-person number by artists Alejandro, Cristian and Ricardo. Vigour and muscular strength, combined with elegance and harmony, are the keywords that best describe the characteristics of a performance that comes across as effortless and easy.
segreteria@festivalcircolatina.com
+ 39 0773 474000

Duo Ars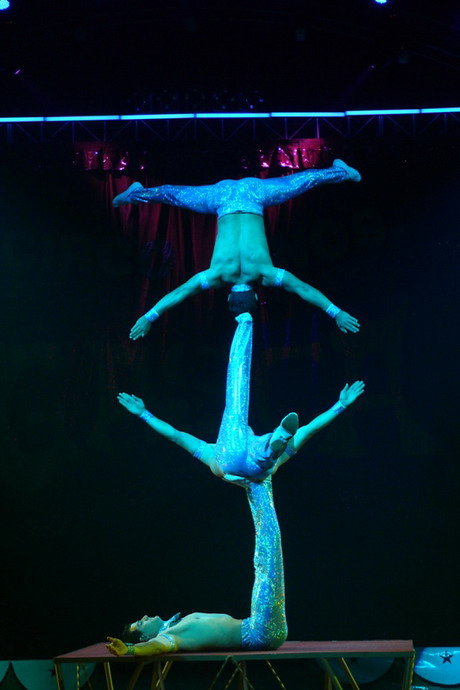 Rialcris
S.B.
27/08/2011 9.11.43
Se questo articolo ti è piaciuto condividilo sui tuoi social utilizzando i bottoni che trovi qui sotto