Nel 1982, il diciassettenne Miguel Vazquez ha fatto notizia quando ha strappato quello che una volta era inimmaginabile; un quadruplo salto mortale tra le braccia del suo porteur (suo fratello) Juan Vazquez. Questo è accaduto per la prima volta durante una sessione di prove e successivamente in una performance al Ringling Bros. e Barnum & Bailey; questa impresa atletica ha fatto notizia in tutto il paese! Quale era il significato di tutto questo? Per quelli di noi che amano il circo e il richiamo del trapezio volante … significava tutto.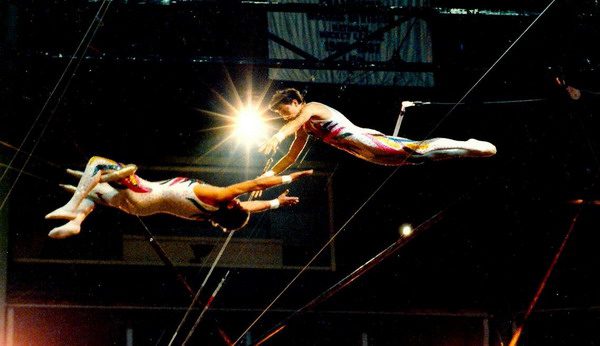 All'inizio, i fratelli e le sorelle Vazquez erano acrobati, parte di una troupe familiare più numerosa. Nel 1977 acquistarono un trapezio usato e iniziarono a provare il numero dei volanti. I membri della troupe sono variati nel corso degli anni. Elencati qui in ordine alfabetico, includono: Felipe Vazquez, Juan Vazquez, Julianna Vazquez, Miguel Vazquez, Patricia Vazquez (la moglie di Juan), Rosa Vazquez (moglie di Miguel), Vinicio Vazquez and Milton Zamudio.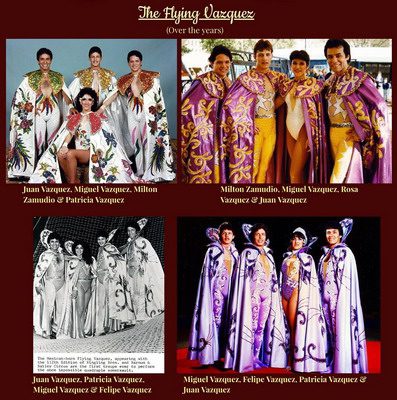 All'età di 16 anni, Miguel Vazquez esegui tripli salti mortali con una costanza sorprendente. Nel 1981 a Long Beach, California, Miguel stava provando il quadruplo, ma la frustrazione cominciò a manifestarsi: era pronto ad eseguirlo in una giornata che aveva visto una serie di tentativi falliti. La sua forza di volontà alla fine ha pagato, dopo una serie di errori chiede al fratello Juan un ultimo tentativo e il risultato fu… preso! Irvin e Kenneth Feld di Ringling Bros. and Barnum & Bailey Circus hanno visto le registrazioni di Miguel, Juan e dei Flying Vazquez. Hanno visto il potenziale per fare la storia del circo; i Feld decisero di portare la troupe Vazquez nel "Più grande Spettacolo del Mondo". Il 10 luglio 1982 a Tucson, in Arizona Miguel Vazquez ha lasciato la piattaforma del trapezio, ha preso la sua oscillazione, ha compiuto quattro giri completi e poi ha preso le braccia di suo fratello Juan. Il primo quadruplo salto mortale nella storia delle esibizioni circensi, sensazionale! The Flying Vazquez hanno continuato a lavorare con Ringling fino al 1989.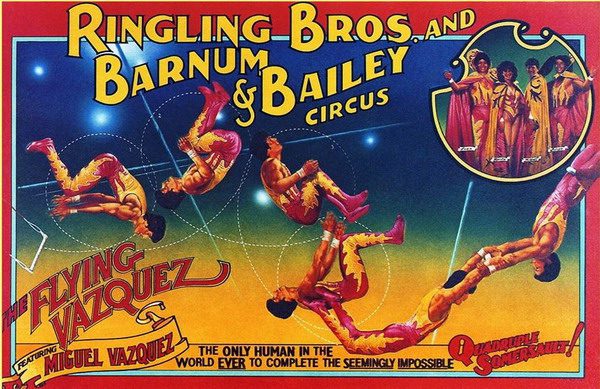 Nel 1990, la troupe Flying Vazquez vinse l'ambito premio Golden Clown al festival del circo di Monte Carlo. Qualche anno dopo, nel 1994, Miguel Vazquez completò il suo quadruplo finale decidendo che la pressione e le aspettative per ogni performance erano semplicemente troppo stressanti. Ma questo non lo ha tenuto fuori dall'aria … non di colpo.
Vi mostriamo il video del Galà del 15° Festival del Circo di Montecarlo dove Miguel Vazquez scrive la storia del trapezio volante.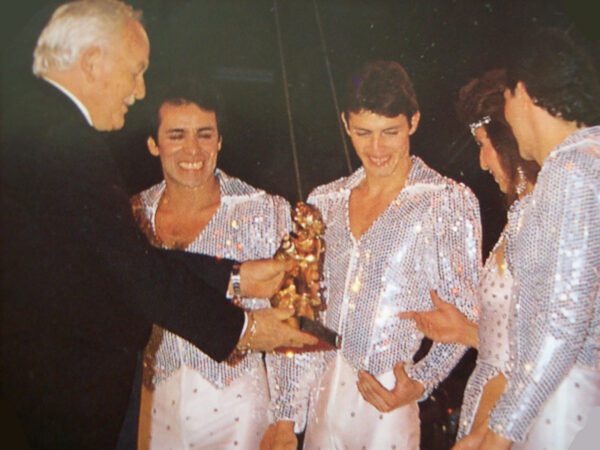 Grazie alla collaborazione con Philip Weyland e alla sua casa di produzione la Timber Island, abbiamo l'orgoglio di presentarvi il tentativo di un quintuplo salto mortale.
Philip è anche l'autore di un interessante documentario dal titolo "The last great circus flyer" che parla della storia di questa leggendaria troupe di volanti, il video è disponibile sulla piattaforma Vimeo e potete raggiungerlo cliccando direttamente sulla locandina.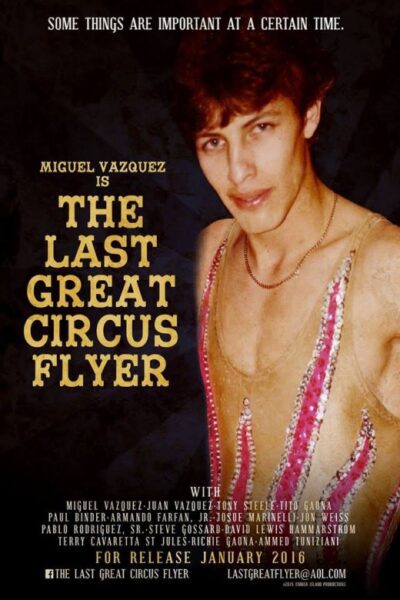 Se questo articolo ti è piaciuto condividilo sui tuoi social utilizzando i bottoni che trovi qui sotto