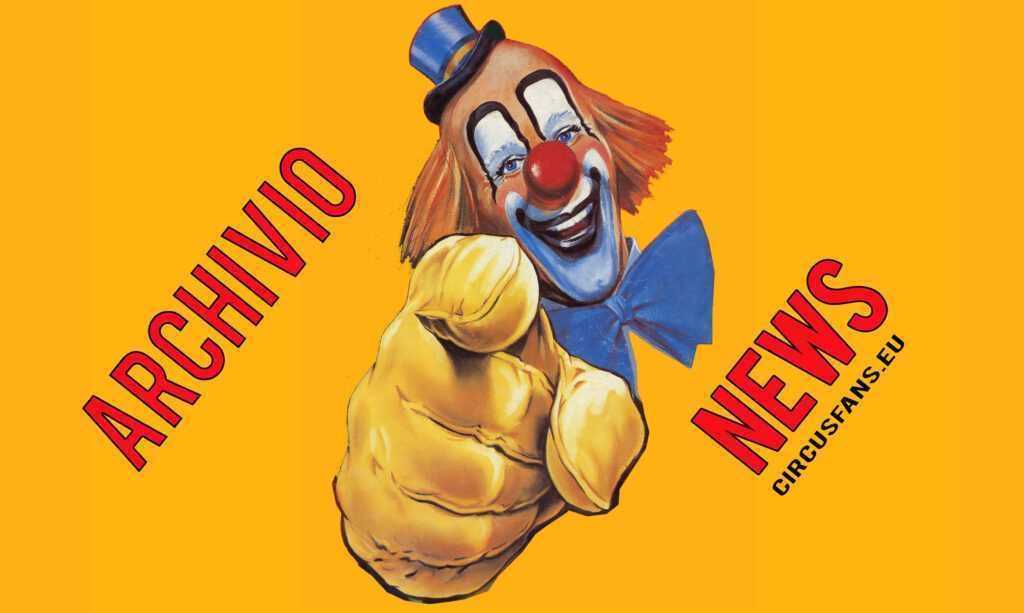 CIRCUS SARASOTA 2019
Da questa sera 15 febbraio al 10 marzo è di nuovo grande spettacolo a Sarasota in Florida
Da questa sera a domenica 10 marzo 2019, il Circo Sarasota presenterà 33 spettacoli sotto il tendone bianco e rosso, ad una unica pista.
Anche quest&rsquoanno lo spettacolo, di stile europeo, sarà di respiro internazionale e gli artisti scritturati sono di assoluto rilievo, provenienti da programmi e Festival mondiali.

I Curatola
Nel cast figurano infatti artisti che ben conosciamo tra i quali: CESAR DIAZ fresco di un bel clown di bronzo al recente Festival Internazionale del Circo di Monte-Carlo, i nostri connazionali FRATELLI CURATOLA col loro collaudato mano a mano, le verticali acrobatiche delle KOLEV SISTERS (figlie di Gilda Vulcanelli e Milcho Kolev), il giocoliere VICTOR KRACHINOV, i cavalli in libertà ed il cerchio aereo di AMBRA ANDRIN, la bascula dei SONS COMPANY, il filo alto di PEDRO CARRILLO, i cani di HANS KLOSE, la bella ruota Cyr di VALERIE INERTIE.

Cesar Diaz
Kolev Sister
Il Circus Sarasota è stato dondato nel 1997 e da allora è organizzato da The Circus Arts Conservatory , la società fondata da due glorie del Circo mondiale: PEDRO REIS e DOLLY JACOBS.
PEDRO REIS lo ricordiamo per i suoi numeri spericolati con cui ha lavorato in molti complessi mondiali e diversi Festival di Monte-Carlo: all&rsquo XI° nel 1985 con il numero di quadro aereo The Survivors e, in solitaria, al 15° nel 1990 con il numero di corda brasiliana con il clou, nel finale, quando saltava nel vuoto, afferrava poi una corda posta in fronte e in un paio di secondi era in pista tra lo stupore generale.
DOLLY JACOBS, figlia dell' indimenticabile clown Lou Jacobs, per anni attrazione del Ringling Bros. and Barnum & Bailey prima e del Big Apple Circus poi, inarrivabile artista agli anelli romani in contorsione, con cui ha partecipato a diversi Festival: al 4° e al 13° Monte-Carlo quando conquistò anche un prestigioso clown d&rsquoargento.
avrete la possibilità di vedere un bel video clip in inglese con la loro presentazione e la loro storia artistica.
AV
15/02/2019 11.14.27
Se questo articolo ti è piaciuto condividilo sui tuoi social utilizzando i bottoni che trovi qui sotto