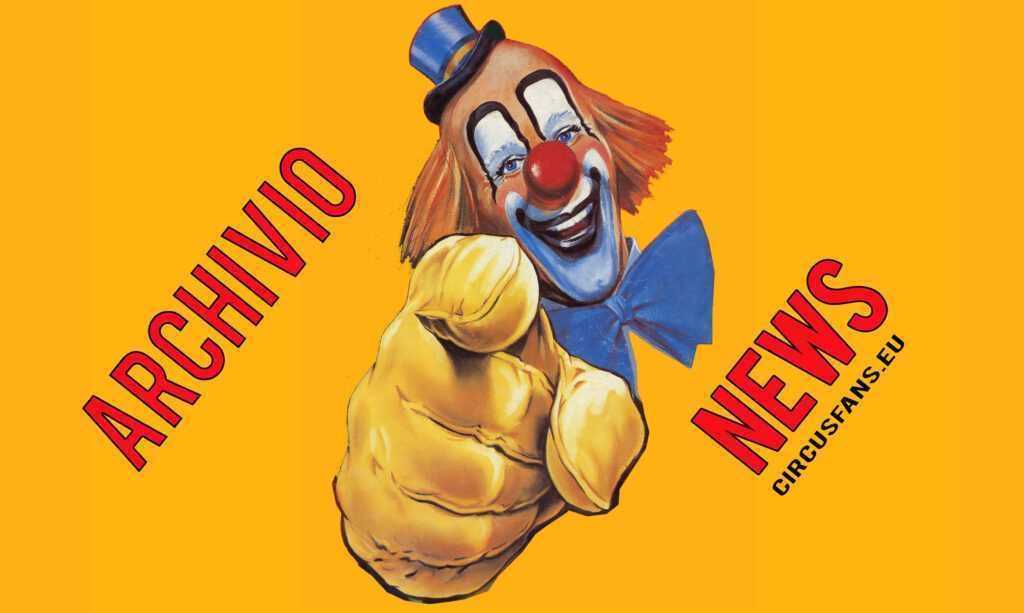 FILO DIRETTO DA LATINA A MASSY: Le foto della premiazione
Il 15 gennaio si é conclusa la 20a edizione del
Fesival Internationale du Cirque de Massy
in Francia.
Fabio Montico
(che sedeva nella giuria internazionale) ci invia alcune immagini dello spettacolo e della premiazione che, ci fa piacere sottolinearlo,
vede nel palmarés
numerose attrazioni scoperte al Festival di Latina negli anni passati: da
Redi Montico
premiato con l'Oro per il suo numero misto di gabbia al sostenuto aereo di "Secret of my love", da
Diana Vediashkina
con i suoi divertenti bassotti alla affascinante giocoliera
Helena Polachova Kaiser
.
L'altro Oro, il giocoliere Sampion Bouglione, é stato invitato a partecipare alla prossima edizione del Festival "Città di Latina".
Fabio Montico premia il cugino Redi
Per vedere il servizio fotografico
Redi Montico
Les Martini
Leosvel e Diosmani
Erik Niemen

Lars Holscher
Palmares Festival du Cirque de Massy
PRIX DU PRESIDENT DEL LA REPUBLIQUE
· Leosvel et Diosmani (Palo Cinese) Argento a Latina
ORO
· Redy Montico (Leoni e Tigri) Premio Speciale a Latina
· Secret of My Soul (Cerchio Aereo) Bronzo a Latina
· Sempion Bouglione (Giocoliere)
ARGENTO
· Diana Vedyashkina (Cani Bassotto) Argento a Latina
· Duo Polinde (Sostenuto Aereo)
· Duo Labrise (Mano a Mano)
BRONZO
· Troupe Donnert (Jockeys)
· Elena Kaiserova (Giocoliere) Premio Speciale a Latina
INVITO UFFICIALE ALLA PARTECIPAZIONE DEL FESTIVAL DI LATINA
· Sempion Bouglione (Giocoliere)
Helena Kaiser, Montico, Secret of my Soul
Fabio Montico con i "Secret of my soul"
Fabio e Redi Montico con Kobzov
S.B.
17/01/2012 22.01.46
Se questo articolo ti è piaciuto condividilo sui tuoi social utilizzando i bottoni che trovi qui sotto