LE CIRQUE WITH THE WORLD'S TOP PERFORMERS A LOANO: Foto
Come vi abbiamo anticipato in una news di qualche settimana fa, Le Cirque with the World's Top Performers è partito in tournée con un nuovo progetto estivo sotto ad uno chapiteau molto intimo di circa 15 x 15 metri installato in alcuni splendidi porti della Liguria come Loano ed Alassio, successivamente sarà a Sanremo e poi a Lignano. Ecco una foto dell'esterno e dell'interno.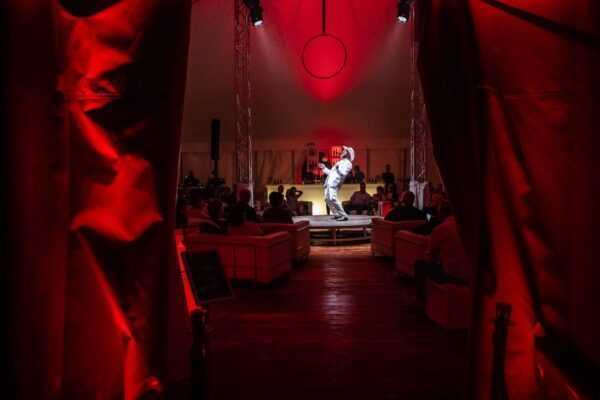 Lo show, formato varietè, rivolto ad un pubblico adulto, si svolge su un palcoscenico circolare centrale, circondato da sedute su divanetti e va in scena in orario preserale a cavallo dell'aperitivo e serale, dopo cena.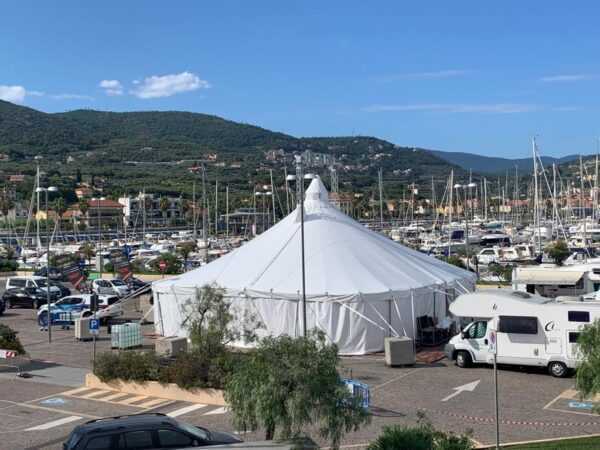 Il programma propone a scelta:
SHOW in APEROTIME dalle ore 18.30 alle 20.30
oppure
SHOW in AFTERDINNER dalle ore 21.30 alle ore 24.
Prevendite www.ticketone.it oppure direttamente al botteghino a partire dalle ore 18.
Info sul sito www.lecirquewtp.it – Mail production@lecirquewtp.it
LA BELLE VIE Tour – ESTATE 2021 (altre nuove date verranno comunicate)
dal 14 al 18 LUGLIO
LOANO (Porto Marina di Loano)
Prevendita locale: Proloco Marina di Loano
Tel. 019.675445
dal 21 al 25 LUGLIO
ALASSIO (Porto Marina di Alassio)
Prevendita locale: Casa del Disco, Via Vittorio Veneto 70, Alassio
Tel. 0182.640479
dal 28 LUGLIO al 8 AGOSTO
SANREMO (Roof 1 Teatro Ariston)
Prevendita locale: Teatro Ariston
Tel. 0184.506060
dall'11 al 22 AGOSTO
LIGNANO SABBIADORO (Spiaggia 10)
Prevendita locale: Uffici Spiaggia 10
Tel. 0431.724030
LE CIRQUE WITH THE WORLD'S TOP PERFORMERS A LOANO: Foto
VISITA LA SEZIONE
STORIA DEL CIRCO
Se questo articolo ti è piaciuto condividilo sui tuoi social utilizzando i bottoni che trovi qui sotto