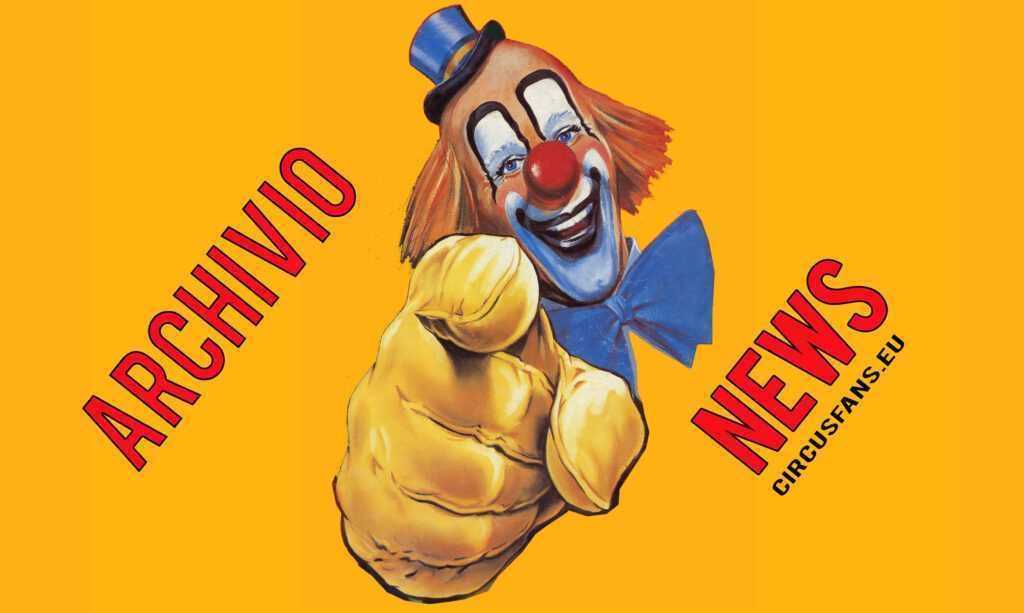 CIRCUS CONELLI
Con la fine di novembre, inizia la stagione dei debutti dei circhi di Natale.
Cominciamo oggi con il Circus Conelli della famiglia di Roby Gasser. Il Conelli è un&rsquoautentica bomboniera montata sul Bauschänzli, l&rsquoisola in mezzo al Limmat, il fiume che attraversa la città. Gli spazi ridotti, sfruttati al meglio, consentono comunque di ospitare attrezzature all&rsquo avanguardia e assicurare, di conseguenza, l&rsquoottimo comfort durante la permanenza. Un bar caffetteria, con finestroni panoramici sul lago, regala panorami da sogno in particolare durante le giornate in cui fuori nevica.
Fondato da Conny Gasser con il socio Herbi Lips nel 1982, quest&rsquoanno il Conelli festeggia il 37° anniversario con uno spettacolo come sempre all&rsquoaltezza della fama.
Questi gli artisti in programma:
– Alex e Lisa: verticalismo (medaglia d&rsquo oro al Festival dei Giovani di Wiesbaden)
– Duo Unity: ruota Cyr
– Anton Mikheev: cinghie aeree (Medaglia d'oro all'European Youth Circus Festival Wiesbaden, Medaglia d'argento all'International Circus Festival of New Generation a Monte Carlo, Ospite speciale del programma televisivo francese "Le plus Grand Cabaret du Monde")
– Anton Monastyrsky: hoola hop (Medaglia d'oro al Festival Internazionale del Circo di Mosca, Secondo premio al Festival del Cirque d'Hiver a Parigi, Medaglia d'argento al Festival Internazionale del Circo a Kiev)
– Denis Degtyarev: bambù (Elefante di bronzo al Festival Internazionale del Circo "Elefant d'Or" di Girona, Premio speciale del Cirque du Soleil e del Budapest Capital Circus)
– Duo Vanegas: ruota della morte (Festival internazionale del circo d'oro di Budapest 2010, Festa d'oro del miglior artista circus flic flac Kassel, Oro al festival del circo Zalewski Polonia, Bronzo, festival internazionale di Massy)
– Gaston & Roli: riprese
– Heroes of the courts: pallacanestro acrobatica (Medaglia d'argento al Festival del Circo di Kiev)
– Stanislav Vysotskyi: giocoliere (Medaglia di bronzo al Festival Internazionale del Circo a Kiev, Primo premio al festival di giocoleria e arte "Tohuwabohu" a Halle)
– Duo Stauberti: pertiche (Clown d&rsquoargento al Festival Internazionale del Circo di Monte Carlo, Premio speciale al "Festival mondiale dell'arte circense" , Medaglia d'argento della Russia al Festival Internazionale dell'Arte del Circo a Varsavia)
– Vick e Fabri: parodia dell&rsquoautoma meccanico
– Vladimir & Vladimir: mano a mano (medaglia d'argento " al Festival Internazionale del Circo di Kiev, Clown di Bronzo al Festival Internazionale del Circo di Monte Carlo)
Lo spettacolo è impreziosito dalla grande orchestra Alex Big Band e dalla voce live del cantante Evan Andrews ed i numeri arricchiti dalle splendide Conelli Dancers.
Conelli sarà in scena a Zurigo dal 22 novembre al 31 dicembre. Per consultare il calendario degli spettacoli (in alcune serate è possibile partecipare alle cene ed ai Galà) e per prenotare i biglietti
Appuntamento ai prossimi giorni quando pubblicheremo il consueto reportage fotografico.
AV
Il video dello spettacolo dello scorso anno
29/11/2019 17.40.31
Se questo articolo ti è piaciuto condividilo sui tuoi social utilizzando i bottoni che trovi qui sotto