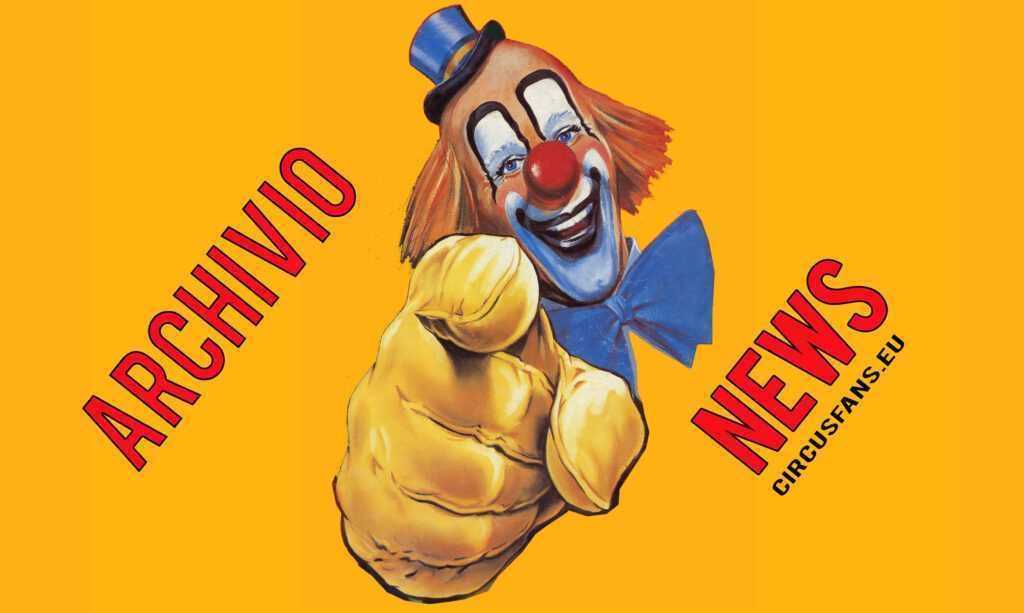 Riceviamo e con piacere pubblichiamo il seguente comunicato stampa.
AV
International Circus Festival of Italy 20th ANNIVERSARY SPECIAL EDITION &ndash Latina, dal 17 al 21 Ottobre 2019 www.festivalcircolatina.com #festivalcircolatina #festivalcircolatina2019
una coproduzione ASSOCIAZIONE CULTURALE &ldquoGIULIO MONTICO&rdquo RUSSIAN STATE CIRCUS COMPANY – ROSGOSCIRK
sotto l&rsquoAlto Patrocinio del PARLAMENTO EUROPEO
con il contributo del MINISTERO PER I BENI E LE ATTIVITÀ CULTURALI
con il Patrocinio di COMUNE DI LATINA PROVINCIA DI LATINA
Platinum Partner CHIMELONG CIRCUS
Gold Partner CIRQUE D&rsquoHIVER BOUGLIONE PRODUCTORES DE SONRISAS STARLIGHT PRODUCTION AND SHOW BUSINESS ROYAL CIRCUS OF GIA ERADZE ZOOSAFARI FASANOLANDIA GRUPPO DE ROCCHI
Silver Partner CIRQUE DU SOLEIL LASERMAN
e con il Patrocinio di FEDERAZIONE MONDIALE DEL CIRCO EUROPEAN CIRCUS ASSOCIATION ENTE NAZIONALE CIRCHI
MIGRANTES FORUM OF CHRISTIAN ORGANIZATIONS FOR THE PASTORAL CARE OF CIRCUS
LATINA È STATE OPES
regia GIA ERADZE
Comunicato Stampa, 19 Ottobre 2019
Lunedì 21 ottobre ore 20.30 spettacolo e premiazioni in via Rossetti a Latina In attesa del Gran Gala dell&rsquoInternational Circus Festival of Italy Fermento e attesa per i nomi dei vincitori fra i 128 artisti in gara, presidente della giuria della critica Manuela Arcuri
Proseguono gli spettacoli e le esibizioni da guinness alla 20ᵃ edizione dell&rsquoInternational Circus Festival of Italy, in via Rossetti a Latina, la mattina di domani, domenica 20 ottobre, si aprirà subito dopo le prove, alle ore 11.30 quando, la comunità salesiana della città, insieme a Padre Bernard, Forum of Christian Organizations for the Pastoral Care of Circus and Carnival Workers, celebreranno in più lingue la Santa Messa Internazionale. Un grande momento di festa, animato dalla corale salesiana. Una particolare preghiera di ringraziamento vedrà l&rsquoesibizione di alcuni artisti del Festival. La S. Messa Internazionale sarà presieduta dai sacerdoti salesiani della Parrocchia di San Marco, ovviamente l&rsquoingresso è libero e aperto a tutti. La giornata proseguirà con i due spettacoli in programma, gli artisti divisi in gruppi si esibiranno davanti alla Giuria della Critica, il primo gruppo di 12 artisti alle ore 15.30 e il secondo gruppo di 12 artisti invece alle ore 19.00. La giuria della critica sarà presieduta dall&rsquoattrice Manuela Arcuri, chiamati a giudicare al suo fianco per la stampa internazionale e di settore: Elena Zaika, Christophe Roullin, Dina Tomezzoli, Armando Alò, Dario Duranti, Flavio Michi, Simone Cimino & Federico Avolio, Adolfo Rossomando, Piero Messana e per le testate locali: Franco Borretti, Sarah Centra, Maria Corsetti, Marcello De Dominicis, Asia Fantinato, Michele Luigi Nardecchia e Marianna Parlapiano. Poi, per decretare i vincitori bisognerà attendere lunedì, serata che si preannuncia ricca di colpi di scena e dal successo garantito. I voti della Giuria della Critica si aggiungeranno a quelli della Giuria Tecnica e solo dopo saranno assegnati, oltre al Latina di Bronzo, il Latina d&rsquoArgento e il Latina d&rsquoOro anche il premio Speciale &ldquoGiulio Montico&rdquo, il premio della Critics Jury, e diversi altri Premi Speciali. La serata del Gran Galà sarà preceduta dal Convegno: &ldquoLo stato di salute della gente dello Spettacolo Viaggiante. Una rete di comunicazione socio-sanitaria e un'antenna giuridica sul mondo circense&rdquo, nel foyer Lunedì 21 alle ore 17.00, nel corso dell&rsquoincontro sarà reso noto il protocollo firmato fra medici e operatori circensi.
Foto by Christophe Roullin
Calendario degli spettacoli: Giovedì 17 Ottobre ore 10 (matinée) e ore 21 (spettacolo A) Venerdì 18 Ottobre ore 10 (matinée) e ore 21 (spettacolo B) Sabato 19 Ottobre ore 16.30 (spettacolo B) e ore 21.00 (spettacolo A) Domenica 20 Ottobre ore 15.30 (spettacolo A) e ore 19.00 (spettacolo B) Lunedì 21 Ottobre ore 20.30, Spettacolo di Gala e premiazione dei vincitori. Gli spettacoli denominati A e B, pur essendo diversi, sono di identico ed elevatissimo livello dal punto di vista artistico e corrispondono esclusivamente alla ripartizione degli artisti in gara in due gruppi. Gli &ldquoSpecial Guest&rdquo saranno presenti in tutti gli spettacoli.
19/10/2019 11.51.25
Se questo articolo ti è piaciuto condividilo sui tuoi social utilizzando i bottoni che trovi qui sotto