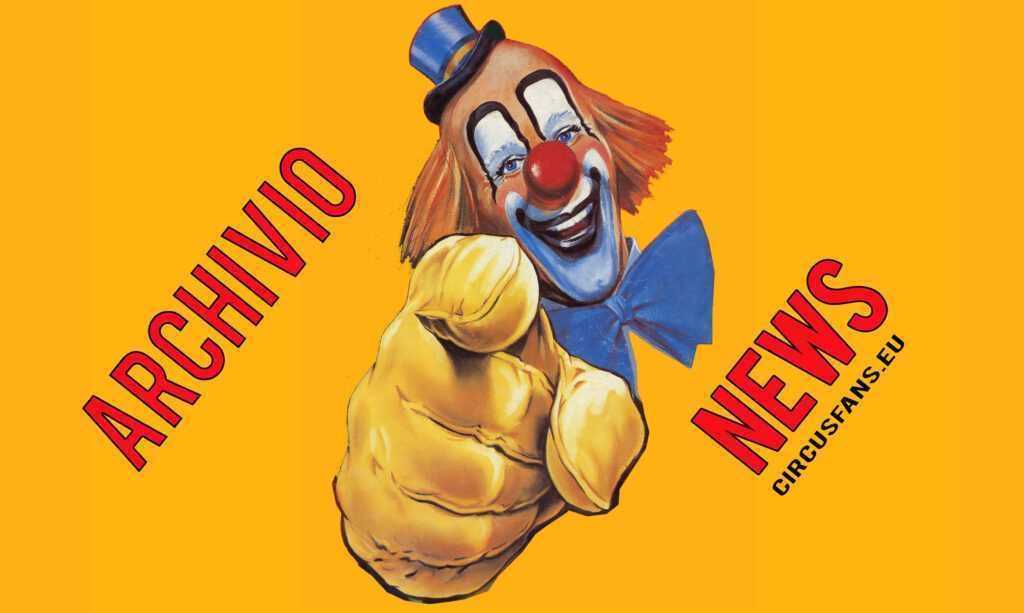 Riceviamo e con piacere pubbblichiamo il seguente comunicato stampa:
La
Scuola d'arte circense By Takimiri
Organizza
PER LA PRIMA VOLTA IN ITALIA!
UNO
STAGE DI HAND TO HAND
CON UNO DEI PIU' GRANDI ARTISTI DI TUTTI I TEMPI:
ERDEO PELLEGRINI
DA I "PELLEGRINI BROTHERS"
PER I GRANDI APPASSIONATI SABATO 16 MARZO ALLE ORE 16 C/O LA SCUOLA CIRCENSE TAKIMIRI
UN'OCCASIONE DAVVERO IMPERDIBILE
PER MAGGIORI INFO 393.1560016
IL LORO STRAORDINARIO CURRICULUM – DA BRIVIDI!
Nel 1990 i Pellegrini hanno lasciato l'Italia per una grande esperienza in Ringling Brothers e Barnum e Bailey Circus negli Stati Uniti, che li ha esposti a lavorare davanti a 10.000 persone per spettacolo. Allo stesso tempo sono stati richiesti nella stagione dei play off (NBA) per esibirsi prima di ogni partita. Nel 1993 partecipò al Festival di Monte Carlo vincendo il prezzo speciale della giuria "Loews" e fu scelto per esporre al Gala Bal de la Rose in onore della principessa Caroline. Da lì hanno avuto un contratto di 4 anni in uno dei luoghi più prestigiosi da esibire, il famoso "Lido di Parigi".
Dopo quattro anni di successi al Lido di Parigi, The Pellegrinis ha avuto un incredibile decennio lavorando nei più noti spettacoli di varietà e cene in Germania, come Friedrichstadpalast a Berlino, Tiger Palast Variete a Francoforte, Apollo Variete a Dusseldorf, e ogni Natale hanno mostrato vari spettacoli di cena a Palazzo. Durante lo stesso periodo nel 2002 sono stati invitati a esibirsi a Varsavia
Festival internazionale del circo dove hanno ricevuto, come ospiti speciali, un prezzo unico per la loro carriera, e nel 2003 sono stati invitati a esibirsi alla quindicesima fiera annuale di Arnold Schwarznegger Classic Fitness (U.S.A.).
Nel febbraio 2006 sono stati scelti per esibirsi alla cerimonia di chiusura delle Olimpiadi Invernali di Torino, e nello stesso anno a giugno hanno partecipato al primo Festival Internazionale di Mosca, dove hanno vinto la medaglia d'oro. Dopo aver vinto tutte queste importanti competizioni, nel 2008 hanno avuto l'onore di essere invitati, per la seconda volta, al più famoso Festival del circo di tutto il mondo, il Festival di Monte Carlo dove sono stati i primi vincitori del prestigioso Golden Clown.
I Pellegrini hanno anche partecipato a diversi programmi televisivi come Star in der Manege a Monaco di Baviera in Germania o Le plus grand Cabaret du Monde a Parigi in Francia. Inoltre sono stati esposti in diverse Galas per presentazioni famose come la nuova Caterpillar e le nuove auto BMW. Nell'ottobre 2010 hanno partecipato allo show televisivo tedesco "Das Super Talent".
A dicembre hanno avuto l'onore di esibirsi di fronte al Papa Benedetto XVI nella sua udienza settimanale in Vaticano. Come al loro solito spettacolo, si tolsero le camicie, così fecero anche davanti al Papa, e questo generò i media di tutto il mondo per parlare di questi "4 fratelli che si strapparono le camicie davanti al Papa &rdquo. Italia, Germania, Francia, Russia, Australia, Inghilterra, Stati Uniti con notizie Abc e persino sul Washington Post. I fratelli Pellegrini da settembre 2009 stanno lavorando con successo al famoso spettacolo di cena "Fantissima" nel parco divertimenti Phantasialand a Brühl- Köln (Germania).
09/03/2019 10.27.18
Se questo articolo ti è piaciuto condividilo sui tuoi social utilizzando i bottoni che trovi qui sotto