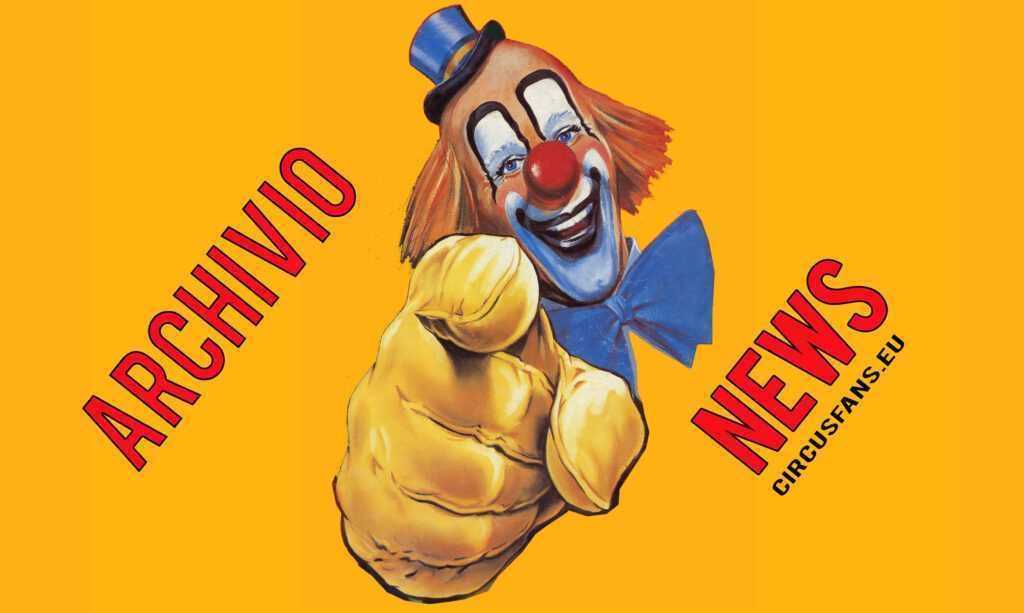 16 APRILE GIORNATA MONDIALE DEL CIRCO
Manca poco più di un mese (16 aprile) alla
Giornata Mondiale del Circo 2016
.
Il tema di questa edizione sarà "Collaboration & Cooperation for the Future of Circus" (penso sia inutile tradurre) e La
Fédéraration Mondiale du Cirque
ha già pronta la pagina dove registrare ciascuno il proprio evento. (
CLICCA QUI
)
Per maggiori informazioni
Fédération Mondiale du Cirque – www.circusfederation.org
+
Fin qui la parte ufficiale, a margine mi sia concessa una domanda: cosa facciamo? Continuiamo a raccontarcela tra di noi o un giorno accendendo la TV sentiremo un telegiornale nazionale risaltarne l&rsquoevento? Non dico come per la Festa della Donna, ma almeno qualcosa che vada oltre l&rsquointervento nella tv regionale. In fondo il circo ha tante facce ed un servizio sulla Giornata Mondiale non dovrebbe infastidire le lobby del &ldquoUn'arte antica che merita di essere difesa e tramandata ma non più impegnando animali&rdquo.
Non so all&rsquoestero come funziona, da noi la situazione bene o male è questa. Non è una critica a nessuno, ma uno stimolo a far ancor di più o, per esempio, a non pensare al mancato incasso dello zoo per una mattina. Soprattutto in questi tempi dove alcune forze politiche sembra abbiano trovato nel Circo il nemico da combattere.
Una sagra popolare può mettere tutti i manifesti abusivi che vuole, un camionista senza assicurazione non vede il suo nome pubblicato sul giornale, una impresa senza un documento non viene neppure menzionata.. per il Circo invece tutte le occasioni sono buone per parlarne male.
E quando non ci pensano altri, siamo noi a farci male da soli.
Non c&rsquoè dubbio che gli animali siano uno dei problemi del momento, ma non l&rsquounico problema.
Restando in tema di animali, trovo controsensi nelle politiche adottate per &ldquotutelarli&rdquo.
Proibite le &ldquocavalcate&rdquo: le sfilate pubblicitarie di un tempo quando il Circo si presentava alla città, si con il traffico di oggi creano problemi, gli stessi di una &ldquocavalcata&rdquo sindacale o studentesca o folkloristica. Eppure con la cavalcata si dava la possibilità all&rsquoanimale di muoversi, e penso in modo particolare all&rsquoelefante.
Ero ragazzino e ricordo la gente che aspettava lungo la strada gli animali quando i circhi arrivavano in treno, le sfilate in città erano una festa per tutti.
TAR a parte, è un controsenso la decisione di quei sindaci che proibiscono l&rsquoarrivo di circhi con animali al seguito, costringendoli così a viaggi più lunghi. Avessi disponibilità economica li denuncerei per maltrattamenti.
Ed a proposito del reinserimento in natura, come tutti i giorni (fonte QN del 15-03-16) anche oggi in Africa verranno uccisi 70 elefanti.
Dimenticavo, stando alle statistiche di una nota associazione, il 71,04% degli italiani sono contrari al circo con animali, viste come sono andate le ultime Festività mi permetto di correggere: il 71,04% degli intervistati.
(mt)
16/03/2016 18.51.41
Se questo articolo ti è piaciuto condividilo sui tuoi social utilizzando i bottoni che trovi qui sotto