FRANCO DRAGONE DIRIGE ANDREA BOCELLI
Franco Dragone è un apprezzatissimo e visionario regista ed ideatore di spettacoli circensi. Cresciuto nella scuderia del Cirque du Soleil, in breve ne è diventato uno dei pilastri e, stando a quanto riporta wikipedia, Franco ha contribuito in modo determinante a plasmare l'identità artistica del Cirque portando la fama a livello planetario. Franco per il Cirque ha scritto e firmato le regie di alcuni tra i più famosi spettacoli ad esempio di Saltimbanco nel 1992 e Alegria nel 1994. In totale ha firmato ben 10 spettacoli, tre dei quali continuano tuttora ad essere rappresentati in teatri permanenti: Mystère (dal 1993) e O (dal 1998) a Las Vegas; La Nouba (dal 1998) a Orlando.
Dopo l' esperienza con il Cirque du Soleil, Dragone ha fondato una propria società di produzione con la quale ha firmato altre pietre miliari dello spettacolo mondiale come La Reve e The House of Dancing Waters, oltre a regie di eventi planetari come la cerimonia di apertura e di chiusura dei Mondiali di calcio Brasile 2014.
Andrea Bocelli ha scelto Franco Dragone per curare la regia del proprio Concerto di Natale 'Believe in Christmas', evento planetario che verrà trasmesso in live streaming mondiale dal Teatro Regio di Parma domani 12 dicembre 2020.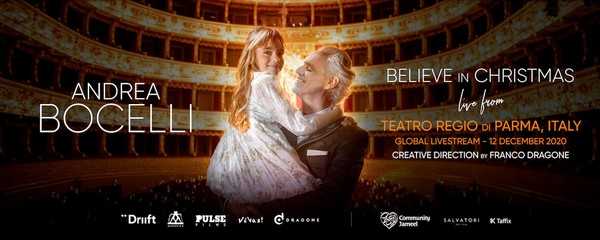 In diretta dal Teatro Regio di Parma, alle 21, e attraverso gli occhi di Virginia, figlia del celebre cantante, che sarà la guida dell'evento, Andrea Bocelli tornerà così sul palco nel periodo natalizio con un live speciale senza precedenti, legato al suo ultimo album 'Believe', uscito lo scorso 13 novembre su etichetta Sugar e subito in cima a tutte le classifiche di vendita mondiali. Sarà un evento imperdibile da godere rigorosamente in diretta.
FRANCO DRAGONE DIRIGE ANDREA BOCELLI
Se questo articolo ti è piaciuto condividilo sui tuoi social utilizzando i bottoni che trovi qui sotto