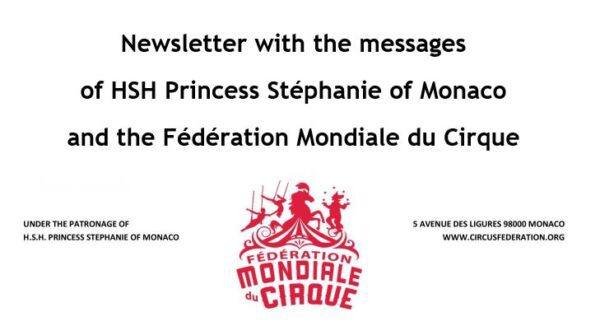 La Fédération Mondiale du Cirque ha diffuso un messaggio della Presidente la Principessa Stéphanie di Monaco allegato alla comunicazione, a firma del Presidente della Federazione Urs Pilz e della direttrice esecutiva Zsuzsanna Mata .
Segue la comunicazione delle Federazione (tradotta in Italiano per vostra comodità). E successivamente il testo originale inviato dalla Principessa Stephanie su carta intestata del Principato.
Eccovi la traduzione in italiano del primo:
Una situazione senza precedenti richiede azioni senza precedenti. COVID-19 ha scosso il mondo e la nostra vita è improvvisamente cambiata, da una settimana all'altra. A causa della pandemia, tutti gli eventi culturali vengono cancellati; i circhi hanno dovuto chiudere o posticipare l'apertura della propria stagione. Anche le scuole, le università, i musei ed i luoghi pubblici sono chiusi fino a nuovo avviso. La vita è ferma a tempo indeterminato. La Federazione è molto preoccupata per il benessere delle persone del circo, degli artisti e degli animali e per il futuro della comunità. Circhi, artisti e collaboratori affrontano giorni molto difficili poiché il loro sostentamento e il loro futuro sono sotto attacco. Questo capita a tutti coloro che sono impegnati nelle arti dello spettacolo. La cultura è un promotore della società e dobbiamo proteggerla anche nei momenti più difficili.
FMC in collaborazione con i suoi membri sollecita politici, governi nazionali a ridurre le perdite che il nostro settore deve affrontare. La solidarietà e le azioni coordinate sono più importanti che mai tra le parti interessate per attirare l'attenzione e sollecitare i governi a fornire sostegno finanziario temporaneo al settore culturale, compresi i circhi. In tali circostanze, la FÉDÉRATION MONDIALE DU CIRQUE si sente responsabile e obbligata a ANNULLARE per le celebrazioni del WORLD CIRCUS DAY 2020 del 18 aprile. Grazie per le registrazioni già fatte sul sito web di FMC prima dello scoppio delle epidemie. Speriamo e desideriamo che la pandemia finisca il più presto possibile e subito dopo che le normali attività possano essere recuperate. La Federazione lascia aperta la possibilità di trovare una data appropriata in autunno per celebrare il WCD 2020 in cui potremmo dimostrare l'unità della comunità circense dopo i giorni disastrosi celebrati insieme, rendendo omaggio in modo festoso alla nostra forma d'arte. Il mondo del Circo ha affrontato enormi problemi molte volte nei 250 anni della sua storia moderna. Ma la resistenza, la devozione e la capacità delle persone del circo sono sempre state il segno per superare i problemi.
Urs Pilz
Presidente
Zsuzsanna Mata
Direttore esecutiva

La versione in inglese:
Dear All,
Unprecedented situation requires unprecedented actions. COVID-19 has shaken the World and our life suddenly has changed from one week to another. Due to the pandemic all cultural events are cancelled; circuses had to close or postpone the opening of their season. Schools, universities, museums and public places are shut down too until further notice. Life is on a standstill for an uncertain time.
The Federation is very concerned about the wellbeing of the people of the circus, the artists, and the animals and about the future of the community. Circuses, artists and collaborators do face very difficult days as their livelihood and future are under attack. This happen to all who are engaged in performing arts. Culture is a promoter of the society and we have to safeguard it in the toughest times too.
FMC in collaboration with its members urges politicians, national governments to ease the losses our industry faces. Solidarity and coordinated actions are more important than ever among the stakeholders to raise attention and urge the governments to provide temporally financial support to the cultural sector, circuses included.
Under such circumstances the FÉDÉRATION MONDIALE DU CIRQUE feels responsible and obliged to CANCEL for the 18 April the WORLD CIRCUS DAY 2020 celebrations. Thanks for the registrations already done on FMC's website before the outbreak of the epidemics. We hope and wish that the pandemic finishes the soonest possible, and soon after normal activities could be recovered.
The Federation leaves open the possibility to find an appropriate date in the autumn to held WCD 2020 when we could demonstrate the unity of the circus community after the disastrous days celebrating together by paying tribute in a festive manner to our art-form.
Circus faced huge troubles many times in the 250 years of its modern history. But the circus people's endurance, devotion and capability always had been the token to overcome the problems.
Take care and stay safe!
Urs Pilz
President
Zsuzsanna Mata
Executive Director
Ecco il messaggio della Principessa Stephanie: