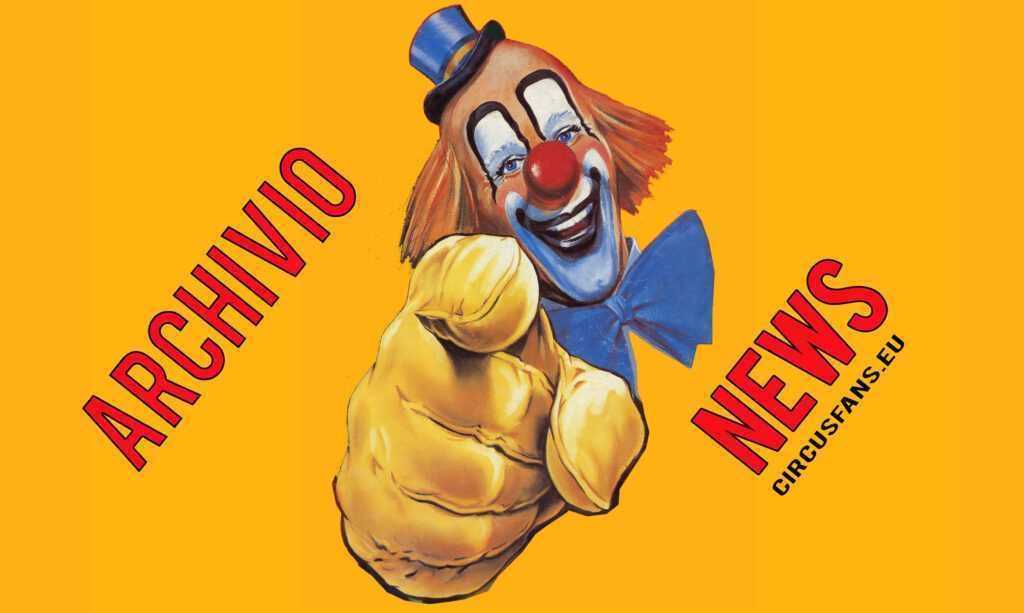 XXXe FESTIVAL INTERNATIONAL DU CIRQUE
DE MONTE-CARLO
19 – 27 gennaio 2006
Chapiteau Espace de Fontvieille
UN FESTIVAL TUTTO D'ORO !
Come avevamo anticipato in via "ufficiosa" il 24/10 scorso (https://www.circusfans.net/news/?view=1061) ecco il terzo comunicato stampa del Festival di Monte Carlo che conferma sostanzialmente le nostre anticipazioni sul cast "aureo" che scenderà in pista nel Principato nel gennaio prossimo:
Comunicato n°3
Le 30e Festival, un véritable « Best Of » des éditions précédentes, entrera certainement dans la grande histoire du Cirque, car la célèbre piste aux étoiles de Fontvieille accueillera du 19 au 27 janvier…13 « Clowns d'Or » ! 13 numéros qui avaient eu l'immense privilège de recevoir leur récompense des mains du créateur du Festival International du Cirque de Monte-Carlo, le Prince Rainier III.
Le public retrouvera donc, outre le célèbre clown russe Popov (voir communiqué n°2) d'autres numéros de très haut niveau et les artistes suivants :
Anatoly Zalewski (Ukraine) dans un numéro d'équilibre vertical à couper le souffle : un moment d'émerveillement garanti !
Fredy Knie Junior (Suisse) et ses chevaux arabes et frisons dont le dressage demeure une référence de qualité dans le monde du cirque
La Troupe Acrobatique de Canton (Chine) et son célèbre pas de deux que le public du Festival a estimé être le meilleur numéro jamais présenté
David Larible (Italie) qui a fait les beaux jours des spectacles du plus grand cirque du monde, le Ringling, Barnum, Bros and Bailey
Les Flying Girls du Cirque d'Etat de Pyongyang (Corée du Nord), porteuses de la longue tradition du trapèze volant coréen
Les Fratelli Errani (Italie), qui présenteront un numéro d'Icariens révélateur des ambitions de la jeune génération du cirque transalpin
Les Puzanovi (Russie) et leur incroyable numéro de bascule
Les Quiros (Espagne), équilibristes travaillant sur deux câbles superposés
Anthony Gatto (USA) considéré comme le meilleur jongleur à l'heure actuelle
Les Rodion (Russie) avec leur célèbre voltigeuse, la seule femme au monde capable de réaliser un quadruple saut périlleux à la barre russe
Les Flying Tabares (Mexique) dans un numéro de trapèze volant, comme on en a rarement vu
Maud Gruss dans « La Poste » aux côtés du grand Maître écuyer Alexis Gruss (France).
Des moments de pur bonheur en vue, comme seul sait en offrir le Festival International du Cirque de Monte-Carlo, la plus ancienne manifestation au service des Arts du Cirque !
Prenotazioni :
Fax : +377.92.05.26.22 – Tél : +377.92.05.23.45
Par corrispondenza:
Monte Carlo Festival – Avenue des Ligures
MC 98000 MONACO
Se questo articolo ti è piaciuto condividilo sui tuoi social utilizzando i bottoni che trovi qui sotto