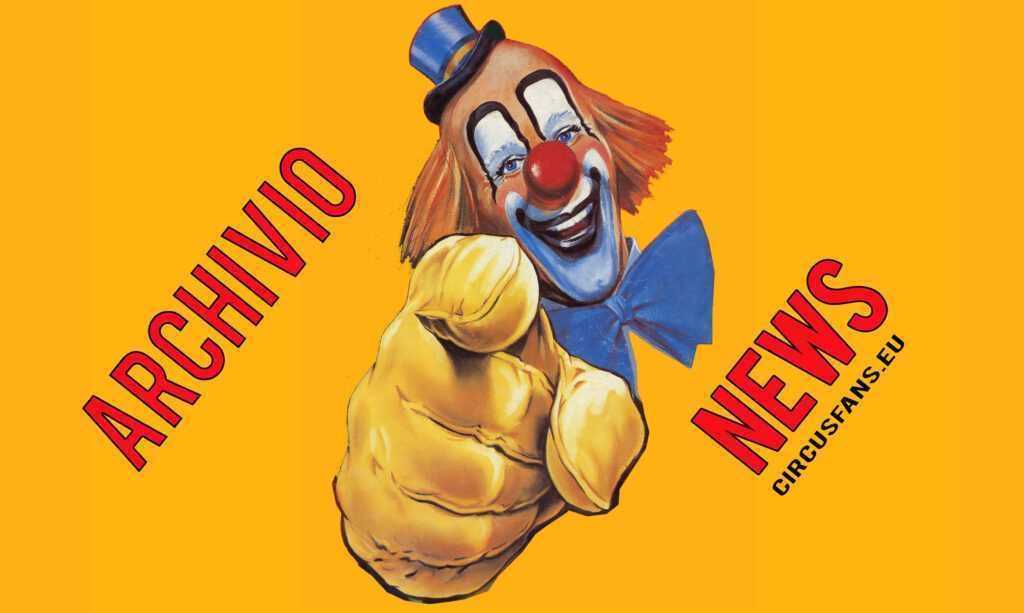 XI Festival Internazionale del Circo
"Città di Latina"
Latina 15 / 19 Ottobre 2009
Comunicato Stampa n. 20/2009
Al Festival del Circo l'Italia è targata "ORFEI"
-9 all'apertura dell'XI edizione
La rosa degli artisti ammessi all'undicesima edizione del Festival Internazionale del Circo "Città di Latina" si completa oggi con nomi celeberrimi del mondo del Circo italiano ed internazionale: dal Circo di giungeranno a Latina a rappresentare l'Italia i giovanissimi Junior. Con loro, in qualità di ospite d'onore del Festival, ci sarà , figlio della leggendaria Moira e di Walter Nones.
LATINA, 6 Ottobre 2009.
Da alcune settimane negli ambienti di settore si era notata la mancanza dell'Italia nel novero dei differenti Paesi e dei rispettivi artisti che saranno presenti all'XI edizione del Festival Internazionale del Circo "Città di Latina". Del resto per completare il gruppo dei 24 eccellenti ammessi alla kermesse internazionale mancava un solo attesissimo nominativo. L'attesa trova soddisfazione in quanto oggi definito dalla produzione: a Latina, dal 15 al 19 Ottobre, lo Chapiteau del Festival Internazionale del Circo "Città di Latina" ospiterà la storica famiglia della leggendaria Moira Orfei. A , figlio di Moira e di Walter Nones, saranno riservati gli onori che la pista del Festival tributa ai suoi ospiti più celebri. Ai piccoli Junior, nipotini di Moira, l'onere di rappresentare in gara l'Italia con un numero di "mano a mano".
, figlio della leggendaria Moira e di Walter Nones, è considerato uno dei più grandi ammaestratori della sua generazione ed una delle stelle del circo italiano ed internazionale. Stefano ha bruciato le tappe in ogni momento della propria luminosa carriera: enfant prodige quando da bambino calcava le piste del circo materno per esibirsi con disinvoltura in complessi numeri acrobatici golden boy della pista, quando adolescente mostrava il suo talento al mondo distinguendosi in numerose discipline (trampolino, trapezio, etc.) ma cominciando a concentrarsi sull'ammaestramento di animali infine vero e proprio recordmen del Circo: Stefano è infatti, fra tutti, l'artista ad avere conquistato trofei al prestigioso Festival del Circo di Montecarlo con il maggior numero di animali ammaestrati. Fra le attività "extra-circensi" intraprese da Stefano ricordiamo la partecipazione a Reality Circus (Canale 5) in qualità di direttore della per VIP e la conduzione del programma televisivo Circo Massimo Show (Rai Tre). Si è sposato nel 2008 con la showgirl ed attrice Brigitta Boccoli, che gli ha dato il primogenito Manfredi. Dal connubio tra i due è nato Una tigre per amore spettacolo di Circo ispirato al genere del Musical con la partecipazione straordinaria di , finora già applaudito da oltre 750.000 spettatori.
Nati nel 1993 e nel 1997, Jr., frequentano rispettivamente a San Donà di Piave, nei mesi invernali, liceo classico e scuole medie, ma trovano il tempo tutto l'anno, praticamente da quando sono nati, per passare molte ore al giorno, sotto l'abile direzione del loro papà, ad apprendere l'arte circense che, in estate e nei periodi di vacanza, permette loro di esibirsi nel circo della nonna ed abituarsi agli applausi ed all'abbraccio del pubblico indispensabile a tutti gli artisti. Acrobati ed equilibristi, Jr. hanno già sperimentato numerose performance sempre di grande successo anche grazie alla continua ricerca di mamma Lara e papà Misha. presentano a Latina un elegante numero di "mano a mano".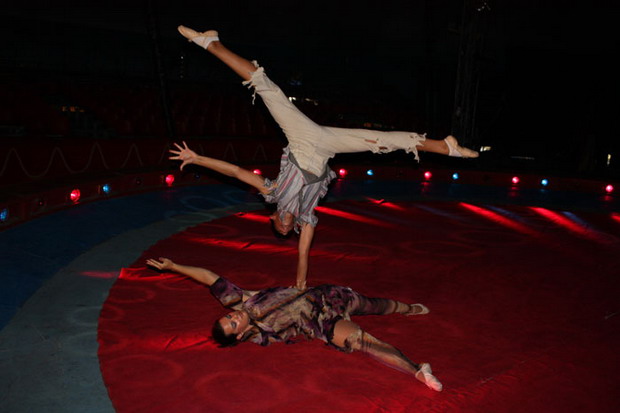 Moira e Walter Junior
11th International Circus Festival
"City of "
15th – 19th October 2009
The Italian Entry to the International Circus Festival "City of " brings the name "ORFEI" to the event.
-9 to the start of the 11 th edition
Today we can add the last name that completes the final group participating in the Internationl Circus Festival "City of ". The last name comes from an internationally known Italian circus family: from the Moira Orfei circus we present the very young Moira and Walter Junior. Along with them, appearing as a guest performer and also Guest of Honour at the Festival, is Stefano Orfei, son of the legendary Moira Orfei and Walter Nones.
, 6th October 2009
The absence of an Italian act in the growing list of participants at the 11th International Circus Festival "City of Latina" has been noted in the circus world in the weeks building up to the event. Up till today there has been one act missing to make up the final 24 acts to be presented at the prestigious annual circus competition. Today the production team can proudly confirm the presence at the event of a family that needs no introduction: The Chapiteau of the 11th International Circus Festival "City of Latina"will have, as honoured guests, the members of the legendary Orfei family. Stefano Orfei, son of Moira Orfei and Walter Nones, will be present as Guest of Honour and will also perform in the ring as a guest artist. Moira and Walter Junior, grandchildren of Moira Orfei, will participate in the competition with a hand to hand number.
Stefano Orfei, son of the legendary Moira Orfei and Walter Nones, is considered to be one of the greatest animal trainers of his generation, and a star of the Italian and International circus world. From the start of his brilliant career he showed great promise: enfant prodige as a child, when he began his career performing complex acrobatic numbers in his mother's circus golden boy of the ring when, as an adolescent, he continued his career by perfecting and displaying his talent in further circus disciplines such as on the trampoline, trapeze etc, and finding his vocation as a formidable animal trainer. He is also a record-holder in the true sense of the word: Stefano has won trophies at the Circus Festival of Montecarlo for his animal training act, which holds the record for the highest number of animals performing in a number. Outside of the circus world Stefano has also taken part in the TV reality show 'Reality Circus' (Canale 5), as Director of the for VIPs, and has also participated in the TV Programme 'Circo Massimo Show' (Rai Tre). In 2008 Stefano married the actress Brigitta Boccoli, and they have since had their first child, Manfredi. Their union has also given fruit to another project, the successful 'Una Tigre per Amore', which is a circus show inspired by the world of musicals and with the special appearance of Moira Orfei. This show has so far been seen by over 750,000 people.
Born respectively in 1993 and 1997, Moira and Walter Jr, during the Winter months, attend schools at San Donà di Piave. But during the rest of the year they also find time to practice the circus arts (practically since they were babies) under the watchful and expert eye of their father. In the Summer months they also perform in their grandmother Moira Orfei's circus, and are starting to get used to the applause and warmth of the audience, the lifeblood of any artist. Moira and Walter Jr have already performed many numbers with great success, always helped by the guidance of their mother Lara and their father Misha. Moira and Walter jr will be performing an elegant hand to hand act at the 11th International Circus Festival "City of ".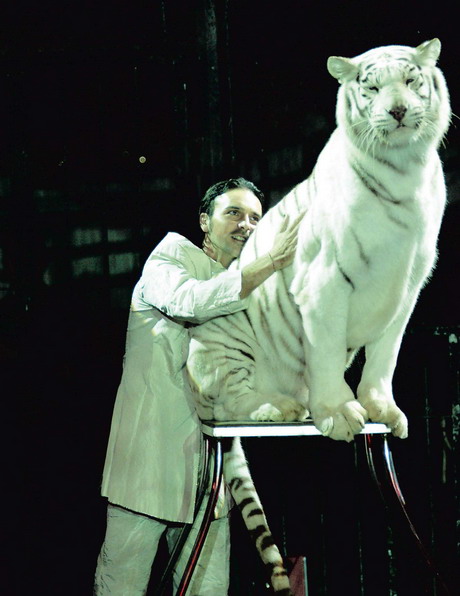 Stefano Nones Orfei
06/10/2009 14.13.49
Se questo articolo ti è piaciuto condividilo sui tuoi social utilizzando i bottoni che trovi qui sotto