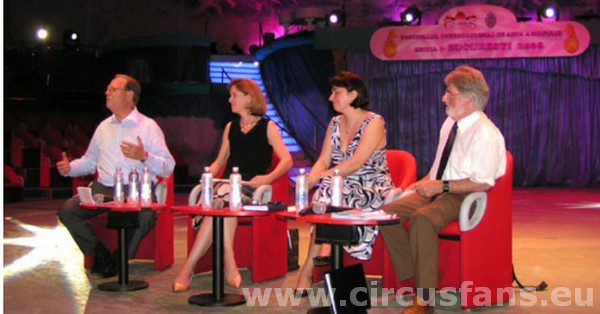 L'ECA RIUNITA A BUCAREST
COMUNICATO ECA IN FRANCESE
Nella foto da sinistra a destra: Urs Pilz, Laura van der Meer, Brinduþa Novac e Arie Oudenes.
Expérience osée devient grand succès
Du 17 au 29 juin, le Circ & Varieté Globus de Roumanie a organisé le premier "Festivalul International de Arta a Circului" à Bukarest, à cinq emplacements différents, surtout dans des parcs publics.
Le concept était unique, car on a pas jugé des artistes individuels, mais des cirques complets. Le Cirque National Hongrois (Richter, Hongrie), le Cirque Nikouline (Russie), le Circo Medrano (Italie), le Circus Busch-Roland (Allemagne) et le Circ & Varieté Globus ont chacun présenté des programmes complets qui étaient jugés par un jury de médias, un jury de jeunes, un jury d'hommes politiques et un jury professionnel. Outre un grand nombre de prix spéciaux, par exemple pour le meilleur choix musical, les plus beaux costumes ou la meilleure mise en scène, trois Lions ont été décernés. Le Lion d'Or a été donné à Circ & Varieté Globus, le Lion d'Argent à Medrano-Casartelli et le Lion de Bronze au Cirque sur Glace de Nikouline. Comme ce festival avait lieu pendant la relâche estivale d'un grand nombre de cirques, beaucoup de directeurs étaient venus en Roumanie.
L'European Circus Assosciation a profité de cette occasion pour organiser une rencontre à caractère instructif.. En coopération avec l'organisation Globus, elle était achevée par une conférence de presse au cours de laquelle on a annoncé que Circ & Varieté Globus était devenu Board Member de l'ECA. En plus, on a annoncé que le 11 juin à Bruxelles pendant une rencontre avec des membres du Parlement européen, on a promis que l'an prochain, le Parlement dirigerait son attention de nouveau au cirque.
Le moteur stimulant derrière l'organisation de ce festival était la directrice Brinduþa Novac. Pour tous ses efforts, elle a obtenu un ECA Award. En plus, l'ECA a donné un prix à Sorin Oprescu, maire de Bukarest. Le financement par la ville et aussi beaucoup de sponsors ont rendu ce festival possible.
L'European Circus Association représente les cirques européens vis à vis des autorités et en public. Elle veut promouvoir l'art et la culture du cirque et protéger cette partie importante de notre héritage culturel. Urs Pilz, le président de l'ECA, est le vice président et directeur artistique du Festival International du Cirque de Monte-Carlo. Presque tous les cirques renommés d'Europe sont membres de l'ECA.
——————————————————–
COMUNICATO ECA IN INGLESE
Daring Experiment Becomes Great Success
From June 17 to 29, the Romanian Circ & Varieté Globus organized the first "Festivalul International de Arta a Circului" in , at five different sites, mostly in public parks.
The concept was unique because no individual acts were judged, but complete circuses. The Hungarian National Circus (Richter, Hungary), Circus Nikulin (Russia), Circus Medrano (Italy), Circus Busch-Roland (Germany) and Circ & Varieté Globus each presented a complete circus programme. These shows were judged by a media jury, a youth jury, a jury of politicians and a professional jury. Besides a high number of special prizes, e.g. for the best music choice, the nicest costumes and the best staging, three Lions were awarded. The Golden Lion was given to Circ & Varieté Globus, the Silver Lion to Circus Medrano-Casartelli and the Bronze Lion to Nikulin's Circus on Ice. As the festival took place during the summer break of a lot of circuses, many directors and proprietors were able to attend.
The European Circus Association used the occasion to organize an informative meeting. In cooperation with the Globus organization, it ended with a press conference announcing that Circ & Varieté Globus had become ECA board member. Another piece of news was that during a meeting with members of the European Parliament in on June 11, it was announced that next year again, the European Parliament would offer its due attention to the circus.
The stimulating engine behind the organization of this festival was directress Brinduþa Novac. For all her efforts, she received an ECA Award and another award was given to Sorin Oprescu, Lord Mayor of . This festival was made possible by public subsidies and a lot of sponsors.
The European Circus Association represents the European circuses to authorities and the general public. The ECA wants to promote circus art and culture and to protect this important part of our common cultural heritage. ECA chairman Urs Pilz is vice president and artistic director of the International Circus Festival in Monte-Carlo. Nearly all renowned European circuses are members of the ECA.
L'ECA RIUNITA A BUCAREST
——————————————————–
L'ECA RIUNITA A BUCAREST
COMUNICATO ECA IN TEDESCO
Gewagtes Experiment wird großer Erfolg
Vom 17. bis 29. Juni organisierte der rumänische Circ & Varieté Globus in Bukarest das erste "Festivalul International de Arta a Circului". Die Zirkusse spielten auf fünf verschiedenen Plätzen, meist in öffentlichen Parks.
Das Konzet war einzigartig, denn nicht individuelle Artisten wurden bewertet, sondern komplette Zirkusse. Der Ungarische Nationalcircus (Richter, Ungarn), Circus Nikulin (Russland), Circus Medrano (Italien), Circus Busch-Roland (Deutschland) und Circ & Varieté Globus präsentierten jeder ein komplettes Zirkusprogramm. Diese Programme wurden von einer Medienjury, einer Jugendjury, einer Politikerjury und einer Fachjury beurteilt. Neben einer großen Anzahl Sonderpreise, zum Beispiel für die beste Musikauswahl, die schönsten Kostüme und die beste Regie, wurden drei "Löwen" verliehen. Der Goldene Löwe ging an Circ & Varieté Globus, der Silberne Löwe an Medrano-Casartelli und der Bronzene Löwe an Nikulins Circus auf Eis. Da dieses Festival während der Sommerpause vieler Zirkusse stattfand, konnten zahlreiche Direktionen nach Bukarest reisen.
Die European Circus Association nutzte diese Gelegenheit, um ein informatives Treffen durchzuführen. In Zusammenarbeit mit der Globus-Organisation endete es mit einer Pressekonferenz, bei der mitgeteilt werden konnte, dass Circ & Varieté Globus ECA-Vorstandsmitglied geworden ist. Auch konnte verkündet werden, dass bei einem Treffen mit Europa-Parlamentariern am 11. Juni in Brüssel zugesagt wurde, im kommenden Jahr im Parlament dem Zirkus erneut Beachtung zu schenken.
Die stimulierende Kraft hinter der Organisation dieses Festivals war Direktorin Brinduþa Novac. Sie erhielt für ihre Bemühungen einen ECA-Preis, und außerdem zeichnete die ECA Sorin Oprescu aus, den Bürgermeister von Bukarest. Finanzierung durch die Stadt und viele Sponsorengelder hatten dieses Festival ermöglicht.
Die European Circus Association vertritt die Zirkusunternehmen Europas gegenüber Behörden und Öffentlichkeit. Die ECA will die Zirkuskunst und –kultur fördern und diesen wichtigen Teil unseres gemeinsamen kulturellen Erbes schützen. Der ECA-Vorsitzende Urs Pilz ist Vizepräsident und artistischer Direktor des Internationalen Zirkusfestivals in Monte Carlo. Zu den Mitgliedern zählen fast alle namhaften Zirkusunternehmen Europas.
FONTE: ECA
Visita la nostra sezione
27/06/2008 16.47.36
L'ECA RIUNITA A BUCAREST
Se questo articolo ti è piaciuto condividilo sui tuoi social utilizzando i bottoni che trovi qui sotto