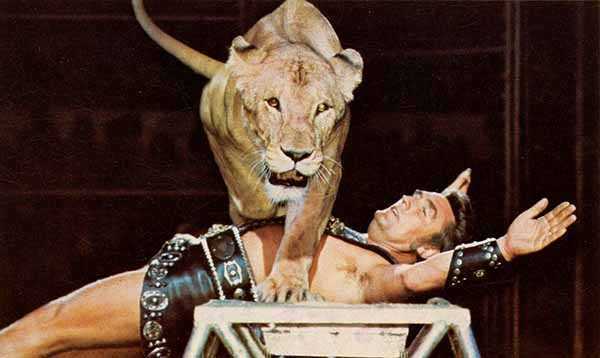 I LEONI DI WOLFGANG HOLZMAIR (1976): Video
Wolfgang Holzmair è stato uno dei più iconici e carismatici domatori di leoni degli anni Sessanta-Settanta. La somiglianza con Kirk Douglas, il fisico possente, la grande competenza maturata lavorando nei grandi complessi dell'epoca come Franz Althoff, Bouglione e Amar gli hanno consentito di creare uno dei numeri più imponenti di quel periodo anche se gabbie molto numerose non erano un'eccezione.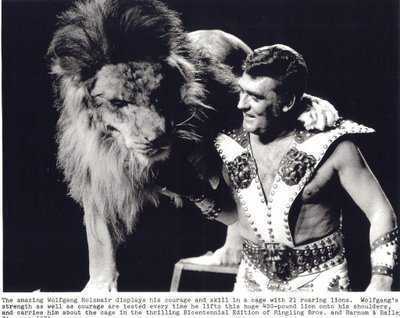 Nella sua carriera ha lavorato con tutte le specie di animali: cavalli, grandi felini ed elefanti. Si ricordano anche due passaggi in Italia negli anni Sessanta: al Circo Tedesco, insegna tenuta per brevissimo periodo da Cesare Togni nell'inverno 1965/66 dove presentava un gruppo di 5 leoni provenienti dal grande gruppo di Bruno Togni; e nella primavera 1968 all'apertura del Circo Miranda Orfei dove presentava un gruppo di elefanti. Dopo un lungo periodo presso il Cirque Amar, agli inizi del 1970 si imbarca alla volta degli Stati Uniti dove per sei anni sarà la vedette della Red Unit del Ringling Bros. Barnum & Bailey Circus con un gruppo di quindici leonesse e leoni presentato in costume da centurione romano con tanto di elmo e mantello.

Wolfgang Holzmair a MTS Berlino (dec. 1976)
(Archivio Storico Mauro Cantoro)
GUARDA IL VIDEO
Dopo la trionfale esperienza statunitense, il primo contratto europeo lo vede protagonista con quello stesso numero a dicembre 1976 nel programma del Menschen Tiere Sensationen alla Deutschlandhalle di Berlino, uno spettacolo invernale con il meglio dei numeri di quel momento, un equivalente degli odierni spettacoli di Stoccarda e del Teatro Carré di Amsterdam. Nello stesso programma cavalli ed elefanti di Knie, orsi di Rupert, i clown Bentos e altri fuori classi di quel periodo, introdotti dall'elegantissima Ring Mistress Nelly Jane Benneweis.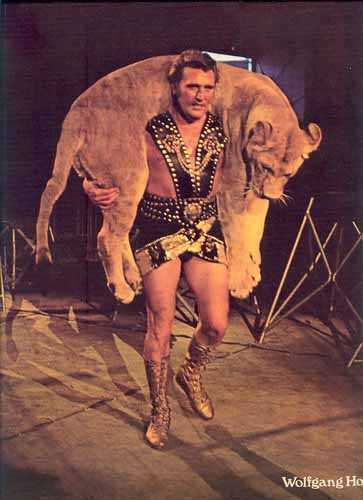 Il video che vi proponiamo (a colori e di ottima definizione!), tratto dall'archivio di Mauro Cantoro, mostra proprio il numero di Holzmair nel dicembre 1976 al rientro dagli Stati Uniti. Un numero che è un trionfo di spettacolarità, l'equivalente di un kolossal del grande schermo: oltre al carisma dell'attore principale, la quantità enorme di leoni in pista (impossibili da contare ma siamo tra i 15 e i 18, ma si dice che ne abbia messi insieme fino a 22!), musica e costume ispirati ai grandi film ambientati nell'Antica Roma, trucchi molto scenografici, come l'imponente piramide iniziale, il celebre passaggio sulla trave dove la leonessa Jeanette scavalca il petto di Holzmair, salti vari, il debout finale del leone maschio e la "testa in bocca". Alla fine del numero, a gabbia vuota entra Teru, un esemplare di leone maschio, che Holzmair si mette sulle spalle, davvero un bel finale. Ciò che colpisce, oltre tutto il resto, è la disciplina di questi animali che pur essendo così tanti raggiungono i rispettivi sgabelli con precisione e ordinatamente, e il controllo di Holzmair su di loro.
Dopo gli Usa e la breve parentesi berlinese, Holzmair sarà il richiamo del Cirque Amar di Firmin Bouglione per un paio di stagioni e dopo alcuni contratti sempre in Francia, si ritirerà dalla pista per aprire un ristorante. Sarà il maestro di Frederic Edelstein per il numero di leoni del Cirque Pinder negli anni Duemila. Morirà nel 2013 a 80 anni nella Francia che era diventata la sua seconda patria, pur essendo nato in Germania e aver trionfato oltre oceano dove era chiamato "Lord of the Lions".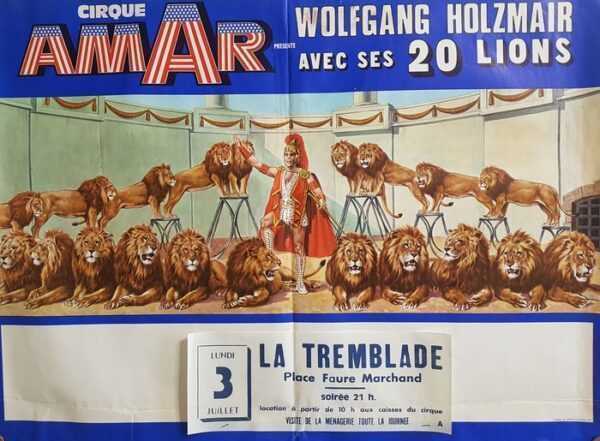 Le sue memorie sono raccolte nell'autobiografia del 2003 "Wolfgang Holzmair. Des animaux comme vous et moi".
Informazioni biografiche
"Caresses Fauves", di Christian Hamel (1998)
"Des animaux comme vous et moi" di Wolfgang Holzmair (2003)
I LEONI DI WOLFGANG HOLZMAIR (1976): Video
Se questo articolo ti è piaciuto condividilo sui tuoi social utilizzando i bottoni che trovi qui sotto