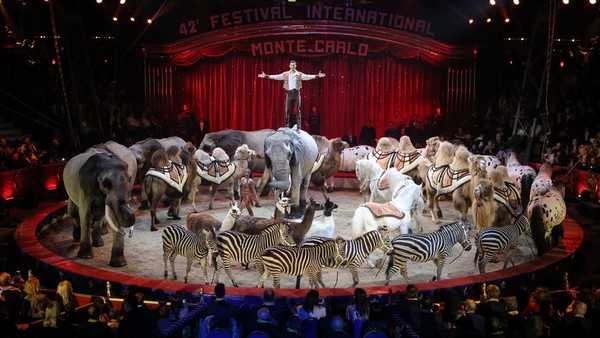 PETIZIONE PER IL MANTENIMENTO DEGLI ANIMALI NEI CIRCHI
La principessa Stephanie è da sempre schierata a favore e a sostegno del circo tradizionale con gli animali.
In questo giorni, sui giornali di mezza Europa, sta rimbalzando una notizia che viene dalla Francia e più precisamente dal ministro per la Transizione Ecologica Barbara Pompili. La ministra ha annunciato una legge con cui vuole mettere al bando gli animali dai circhi tradizionali dal 2025, accomunando questa decisione, tra le altre, con quelle di mettere fine anche agli allevamenti di visoni da pelliccia e al divieto di introdurre o far riprodurre orche e delfini nei tre grandi acquari francesi.
Immagino che anche a tutti voi venga l' orticaria a leggere questi fatti accomunati in un unico provvedimento, si da per assodato il maltrattamento degli animali nei circhi e nei delfinari così come avviene negli allevamenti per gli animali da pelliccia.
Se anche tu come noi non condividi queste posizioni estremiste ed estremizzate, ti chiediamo un aiuto ed una piccola ma significativa azione.
Appoggia anche tu la petizione che S.A.S. la principessa Stephanie di Monaco ha lanciato su change.org diretta al signor Pascal FATON Secrétaire Général de la Commission Nationale.
Per sottoscrivere la petizione
Eccovi il testo integrale della petizione, in francese, inglese ed in ultimo in italiano:
Oui au Cirque avec les animaux
Chers amis du Festival,
Chers amis du Cirque Traditionnel avec les animaux,
Nous faisons suite à l'annonce de la Ministre de la transition écologique Madame Barbara Pompili, sur le projet d'interdiction des spectacles avec animaux sauvages.
Plus que jamais nous avons besoin de votre support pour que le Cirque Traditionnel avec les animaux puisse continuer de faire rêver petits et grands!
Aidez-nous à conserver notre patrimoine culturel en signant la pétition en ligne : Oui au Cirque avec les animaux !
——————————-
Dear friends of the Festival and the traditional circus,
the presentation of animals belongs to the modern circus for 250 years.
Because of a current statement of the French
Minister, Mrs. Barbara Pompili and her project to ban animals in the circus, your support is needed more than ever!
We need you and your voice so that the circus with animals can continue to bring joy and happiness to children of all ages. In France and everywhere else in the world!
We invite you to sign our petition for the circus with animals.
Thank you in advance for your support.
Cari amici del Festival e del circo tradizionale,
la presentazione degli animali appartiene al circo moderno da 250 anni.
A causa di una dichiarazione attuale dei francesi
Il ministro, la signora Barbara Pompili e il suo progetto per bandire gli animali nel circo, il vostro sostegno è più che mai necessario!
Abbiamo bisogno di te e della tua voce affinché il circo con gli animali possa continuare a portare gioia e felicità ai bambini di tutte le età. In Francia e in qualsiasi altra parte del mondo!
Ti invitiamo a firmare la nostra petizione per il circo con gli animali.
Grazie in anticipo per il vostro sostegno.
Per sottoscrivere la petizione
Più persone sottoscriveranno la petizione, più forte sarà la nostra voce a difesa del circo tradizionale con gli animali per cui divulgate e condividete quanto più possibile questa news o anche solo il link della petizione stessa.
PETIZIONE PER IL MANTENIMENTO DEGLI ANIMALI NEI CIRCHI
Se questo articolo ti è piaciuto condividilo sui tuoi social utilizzando i bottoni che trovi qui sotto