THE CIRCUS OF HORRORS DEBUTTA A BERGAMO
Il 19 settembre debutta all' Orio Center di Azzano San Paolo (in prossimità di Bergamo dove attualmente vanno in scena gli spettacoli del Circo Bellucci+Mario Orfei) la nuova produzione curata dai fratelli Attilio ed Emidio Bellucci. Produzione in collaborazione con Dr. Haze intitolata "The Circus of Horrors – Lo spettacolo della paura".
Nell'attesa di rivelare ulteriori dettagli sullo spettacolo vi mostriamo la pubblicità della piazza del debutto.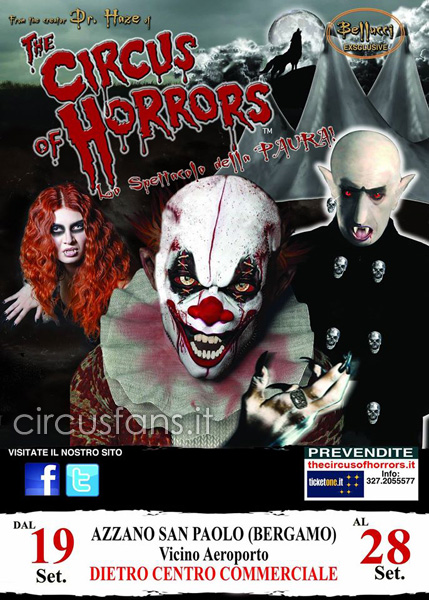 08/09/2014 00.02.24
Visita le nostre sezioni
Per rimanere sempre aggiornati sulle tappe dei circhi italiani
THE CIRCUS OF HORRORS DEBUTTA A BERGAMO
Se questo articolo ti è piaciuto condividilo sui tuoi social utilizzando i bottoni che trovi qui sotto