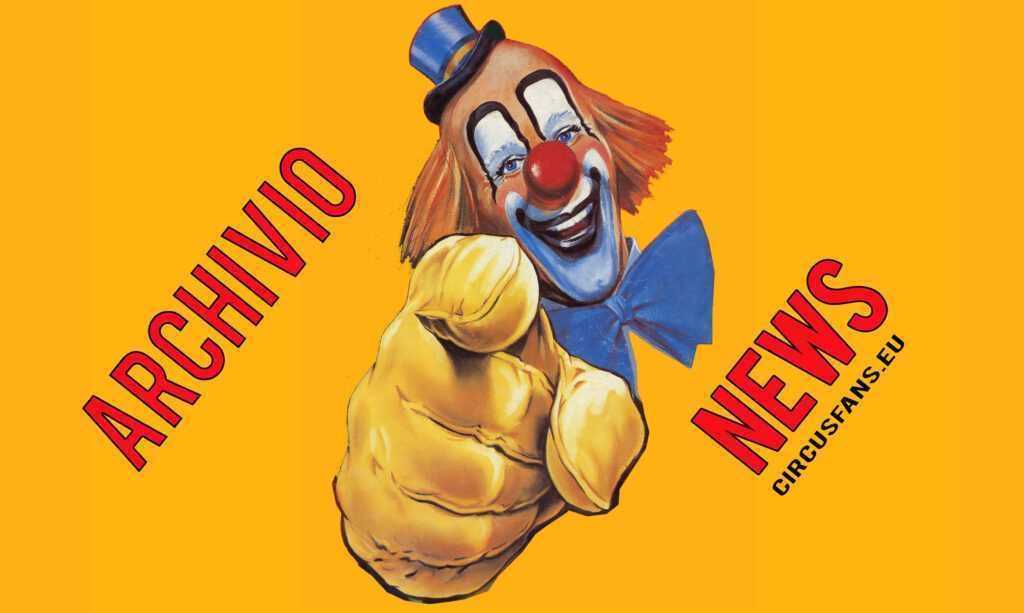 FESTIVAL DI LATINA
IL SALUTO DI FABIO MONTICO
Riceviamo dalla Segreteria del Festival del Circo Città di Latina un estratto del saluto che Fabio Montico, Presidente del Festival porgerà ai convenuti all'imminente 14^ edizione
Cogliamo l'occasione per rivolgere a Fabio Montico i nostri più sentiti auguri per il suo compleanno che cade oggi.
Una sana "frenesia"…
Ogni debutto continua a suscitare in me un'emozione che le persone a me più vicine, familiari e collaboratori, non stentano a riconoscere nei tratti di una certa mia "frenesia". Una naturale, e spero sana, agitazione che è il segno del carico di entusiasmo ed energia che tutto l'anno investo nell'immaginare, ideare e costruire un'edizione del Festival capace di sorprendere, emozionare e far sognare piccoli e grandi. Siamo arrivati al 14° Festival e non a caso uso il plurale: siamo arrivati fin qui tutti insieme! Noi tutti, la mia famiglia in testa, il mio collaudatissimo staff di giovani professionisti, le Istituzioni pubbliche, le Istituzioni di categoria, i Circhi, gli appassionati e tutti quanti, a vario titolo, hanno contribuito a portare avanti per ben 14 anni un progetto che, all'inizio, appariva quasi utopico. A tutti il mio grazie! Certamente possiamo ancora crescere, e questo sarà possibile anche grazie alla disponibilità di tutti, nessuno escluso, al confronto ed al dialogo, alla larga da logiche individualistiche o restrittive. Con una ancora più ampia partecipazione al nostro progetto, potremo continuare a perseguire scopi per noi, oggi più che mai, irrinunciabili: avvicinare il Circo alla cosiddetta "Cultura ufficiale" portare il mondo del Circo, con tutti i mezzi, ad una visibilità più ampia, e non di nicchia contribuire a portare in alto nel mondo la bandiera del Circo italiano intercettare le esigenze delle nuove generazioni degli operatori del settore offrendo loro un ascolto adulto e foriero di adeguato sostegno stabilire una "rete" sempre più ampia di relazioni costruttive tra quanti, in tutto il mondo, nelle forme più tradizionali come in quelle innovative, fanno del Circo la propria forma di espressione continuare a riconoscere nella pista, che è parte del nostro cuore, il sito privilegiato per l'incontro tra culture differenti. Sono auspici alti. Ma sono il motivo di quella "frenesia" che spero, sia pure solo in parte, di avervi comunicato! Affinché voi con noi, assieme, possiamo puntare dritto verso il 2013, anno nel quale una "Special Anniversary Edition" del nostro Festival ne celebrerà il suo 15° compleanno.
Cordiali saluti
Fabio Montico
A healthy kind of "frenzy…"
As every début comes around the excitement grows so much in me that the people who are closest to me, whether they are family or colleagues, recognize the usual signs of my (by now renowned) "hyperactivity". I believe this is a natural, and I hope healthy, expression of the culmination of the energy and enthusiasm that I put into the planning and putting together of each edition of the Festival so that it always surprises and thrills both the young and the not-so-young. We've reached the 14th edition, and I use the plural deliberately: We made it here all together! Everyone, with my family at the top of the list, but including my tried-and-tested staff of young professionals, public and ministerial authorities, Circuses, Circus fans and everybody who has, in some way, contributed to making this Festival an ongoing success for the past 14 years, a goal that seemed Utopian at times. I thank you all. It's clear that we can still grow, and this can only be made possible by the willingness of all, without exclusion, to meet and discuss without restrictions of a personal or logistical nature. With an even greater involvement of others in our vision, we can pursue our firm aims: to bring the Circus closer to so-called 'official culture' to make the Circus world, in any way we can, more prominent in day-to-day life and less of a niche market to contribute to holding high the Italian flag within the Circus world to understand the needs of the younger generation that works in this sphere, offering them a friendly ear that will listen, and support where necessary to establish an ever-growing 'network' to serve the needs of anyone who, on a worldwide scale, practices the Circus arts (whether traditional or innovative) as their means of expressing themselves to continue to recognise the sawdust ring, which is the heart of our being, as the preferred venue for the meeting between different cultures. These are high hopes. But they are the reason for that harmless 'frenzy' that I hope, at least in part, to have conveyed to you! I hope that you will all continue to support us and work with us towards 2013, and our "Special Anniversary Edition", which will see us celebrating our 15th birthday.
Best wishes
Fabio Montico
Fonte: Segreteria Festival di Latina
19/09/2012 20.19.38
Se questo articolo ti è piaciuto condividilo sui tuoi social utilizzando i bottoni che trovi qui sotto