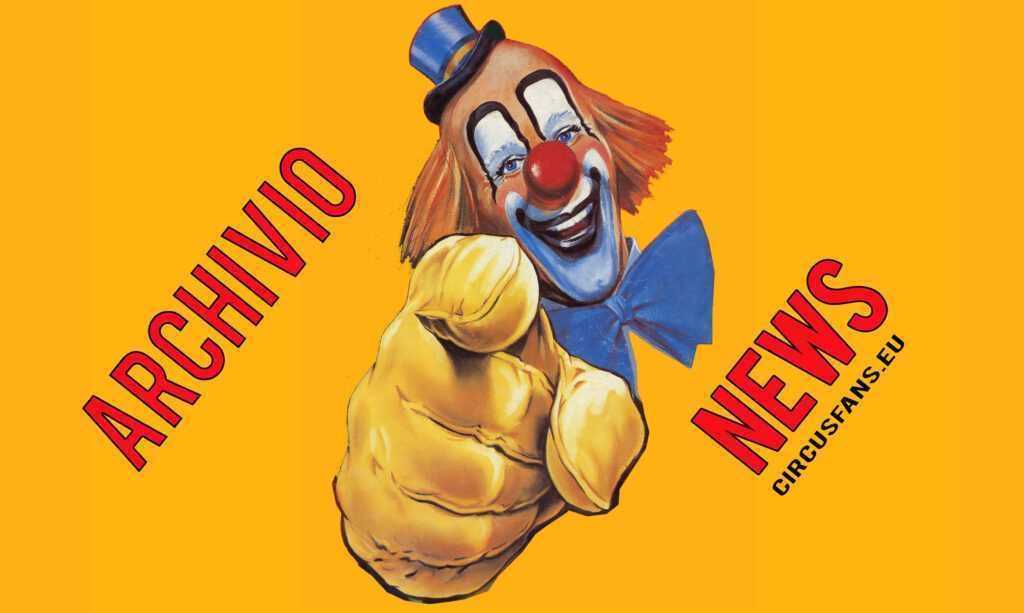 Casting per artisti di Circo
Cercasi artisti di circo di elevato livello tecnico e artistico, per produzione internazionale sotto chapiteau.
Provenienza : Scuole di circo riconosciute a livello europeo (CNAC, ESAC, Le Lido, Accademia del Circo di Verona, Carampa, Vertigo, Fratellini, Montreal, Stoccolma, Lion, Cirque de Soleil, Kiev, Flic, etc)
Tecniche (una o più a scelta, in ordine di preferenza) : Roue Cyr, Corda molle, Bascula ungherese, Acrobatica, Verticalismo, Mano a mano, Monociclo (+ altra specialità), giocoleria e manipolazione di oggetti (no tessuti, trapezio koreano, corda liscia, corda volante)
Bonus (non obbligatori): capacità teatrale, conoscenza di più strumenti musicali, età (20-35).
Date casting: 30 e 31 agosto o 1 e 2 settembre, Torino (luogo da richiedere via email in caso di approvazione del curriculum)
Impegno richiesto : 1 settimana a settembre, 1 settimana a Ottobre dal 16 al 22.
Debutto spettacolo : Torino 23-29 Ottobre 2012.
Repliche successive previste : Spettacolo inaugurale festival Mirabilia, Fossano, 12-16 giugno 2013 (Altre date da designarsi)
Prove e giorni di spettacolo sono pagati, compreso il rimborso viaggi e ospitalità.
Inviare curriculum dettagliato, foto e link video a: casting@festivalmirabilia.it
IMPORTANTE: Come soggetto della mail, scrivere "Casting – …….. (inserire nome dell'artista dopo il trattino)"
————————————————-
2- Casting for Circus artists
Searching circus artists with very high technical and artistic skills, for international production in big top.
Provenance: Schools of circus recognized at European level (CNAC, ESAC, Le Lido, Academy of Circus of Verona, Carampa, Vertigo, Fratellini, Montreal, Cirque de Soleil, Kiev, Flic Ecole du Cirque du Lion, etc.)
Techniques (one or multiple choice, in order of preference): Roue Cyr, Thight rope, Bascule, Verticality, Hand to Hand, Acrobatics, Unicycle (+ other discipline), Juggling and object manipulation (no tissues, neither Korean trapeze, flying rope )
Bonus (not mandatory): theatrical skills, knowledge of multiple instruments, age (20-35).
Casting Dates: 30 and 31 August or 1 and 2 september , Torino (place to be requested by email in case of approval of the curriculum)
Commitment required: one week in September, one week to October 16 to 23. Debut : Turin, 23 to 29 October 2012. Replica set: Inaugural show festival Mirabilia, Fossano, 12-16 June 2013 (Other dates to be designated)
Rehearsals and performance days are paid, including travel reimbursement, and hospitality.
Send detailed CV, photo and video links to: casting@festivalmirabilia.it
with as subject: "Casting -(name of the artist)"
———————————————-
3- Casting pour artistes de cirque
Recherche de artistes de cirque avec de très hautes compétences techniques et artistiques, pour production internationale sous chapiteau.
Provenance: écoles de cirque reconnus au niveau européen (CNAC, ESAC, Le Lido, Académie du cirque de Vérone, Carampa, Vertigo, Fratellini, Montréal, Cirque du Soleil, Kiev, Flic, Ecole du Cirque du Lion, etc)
Techniques (un ou choix multiples, dans l'ordre de préférence): Roue Cyr, Thightrope, Bascule, verticalité, main à main, acrobatie, monocycle ( + autre discipline), jonglerie et manipulation d'objet (pas de tissus, ni trapèze coréen, ni corde volante )
Bonus (pas obligatoire): compétences théâtrales, la connaissance des instruments multiples, l'âge (20-35).
Dates Casting: 30 et 31 août ou 1 et 3 septembre, Turin (lieu à être comuniqué par e-mail en cas d'approbation du curriculum)
Engagement: une semaine en Septembre, une semaine à Octobre 16 à 23. Debut: Turin, 23 à 29 Octobre 2012. Du jeu de réplicas: inauguraux Mirabilia du festival de spectacles, Fossano, 12-16 juin 2013 (Autres dates à désigner)
Répétitions et jours de spectacle sont payés, inclus remboursement voyage, hospitalité en charge du organization.
Envoyer CV détaillé, photos et lièns vidéo à: casting@festivalmirabilia.it
avec comme sujet: "Casting – (nom de l'artiste)"
19/08/2012 9.38.26
Se questo articolo ti è piaciuto condividilo sui tuoi social utilizzando i bottoni che trovi qui sotto