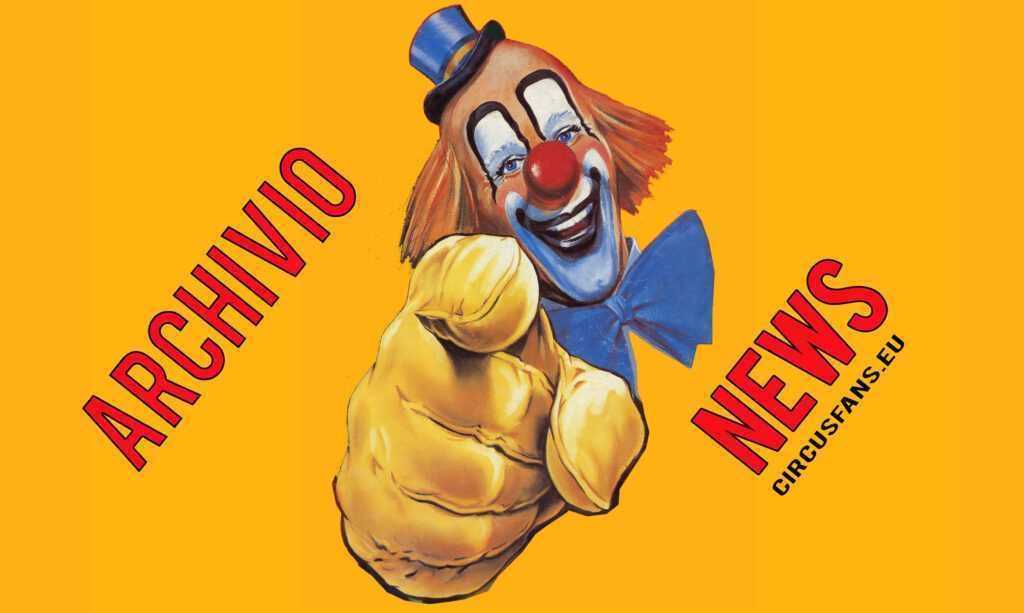 Crazy Paradise, De Ritis incanta L'Aquila e fa innamorare del suo circo
da abruzzo24ore.tv
Una serata magica, quella che gli spettatori che si sono diretti alle 99 cannelle dell'Aquila per la prima del Progetto Archeo.S inaugurata dal regista e profondo conoscitore del circo Raffaele De Ritis. Uno spettacolo immersi nel profondo storico aquilano e abruzzese con sottofondo lo scrosciare incessante dell'acqua che calava dai mascheroni della fonte storica.
Tanto strideva con il silenzio degli attori/atleti e con il blues suonato magistralmente dal Pescara Jazz Ensemble: Carmine Ianieri (sax), Michelangelo Del Conte (batteria), Esther Slanzi (trombone). Uno spettacolo intenso che parla del vecchio circo, quello dove artisti internazionali si esibivano senza dire una parola, ma con un sottofondo musicale indimenticabile e parlavano con gesti e sguardi fra loro e con il pubblico.
Successo e applausi anche per il cast equilibrismo, giocoleria, diabolo, palo cinese, corda aerea, danza acrobatica, mano a mano assieme alle performances di slapstick, magia e burlesque della compagnia Circus Blues. Sul palco Ilaria Cappelluti, Andrea Ginestra, Mercedes Martin, Max Masciello, Francesca Persico, Pablo Raffo, GuidoSilveri, Esther Slanzi, Jonas Slanzi, Philippe Tordeaux. Un successo per il regista, già conosciuto dai nostri lettori per essere anima e corpo del Festival del nuovo circo di Pescara il Funambolika, un successo per il progetto Archeo.S un modo nuovo e "comunitario" di intendere la cultura come ci spiega il dirigente regionale Paola Di Salvatore che ha fortemente voluto l'impegno e l'impiego di forze abruzzesi in spettacoli di assoluto rilievo.
Un nuovo modo di progettare la cultura, dicevamo, via gli sfarzi e i salamelecchi dei vecchi progetti roboanti e benvenuta collaborazione fra piccoli per dare spazio e visibilità a tutti.
Il progetto continuerà ad andare in scena con spettacoli differenti a L'Aquila – 99 Cannelle e Chiostro di San Domenico – dal 5 al 10 agosto. Infine Santo Stefano di Sessanio ospitera' un evento speciale l'11 agosto. Andranno in scena rappresentazioni di teatro, danza, nouveau cirque e opera tango provenienti da Abruzzo, Marche, Puglia, Croazia e Grecia.
Tutti gli spettacoli avranno inizio alle 21.30 e saranno ad ingresso libero fino ad esaurimento posti. Il progetto Archeo.S – System of the Archeological Sites of the Adriatic Sea e' finanziato dal Programma di Cooperazione Transfrontaliero IPA Adriatico 2007-2013. L'Assessorato alle Politiche Culturali – Servizio Politiche Culturali della Regione Abruzzo, e' partner del progetto insieme al Teatro Stabile delle Marche, al Comune di Igoumenitsa (Grecia), al Comune di Pazin (Croazia) e al Comune di Fier (Albania), mentre il Teatro Pubblico Pugliese ne e' capofila.
08/08/2012 9.59.34
Se questo articolo ti è piaciuto condividilo sui tuoi social utilizzando i bottoni che trovi qui sotto