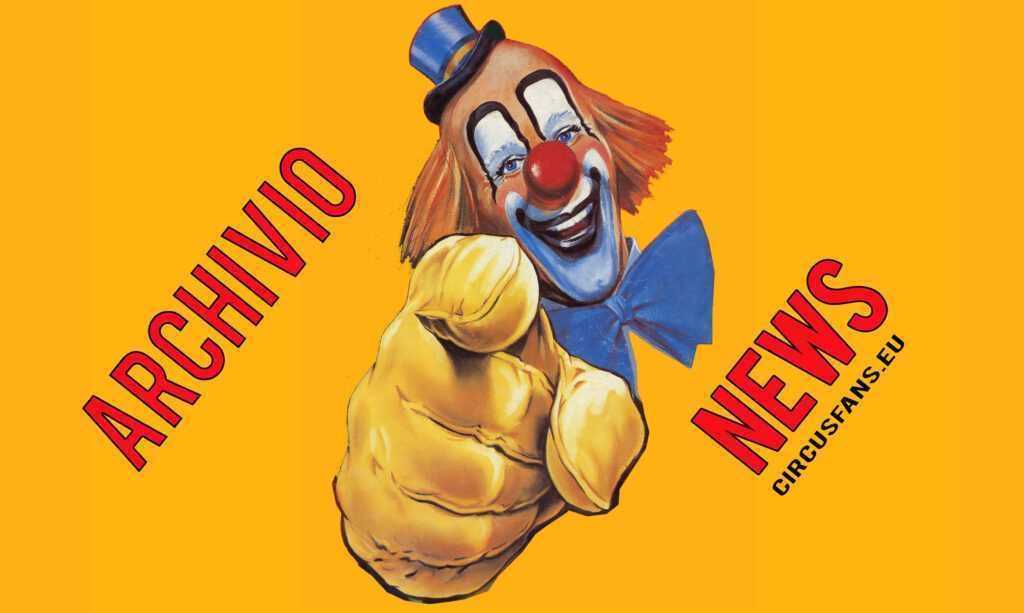 III FESTIVAL MONDIALE DEL CLOWN
(Ekaterinburg / Russia)
Dal 25 al 28 novembre a Yekaterinburg in Siberia si tiene il III Festival Mondiale dei Clowns diretto da Anatoly Martchewsky.
Il Festival celebra il 75° anniversario del clown russo Leonid Yengibarov.
Nell'attesa di comunicare il programma completo dell'evento, vi riportiamo il comunicato e l'immagine di questa edizione.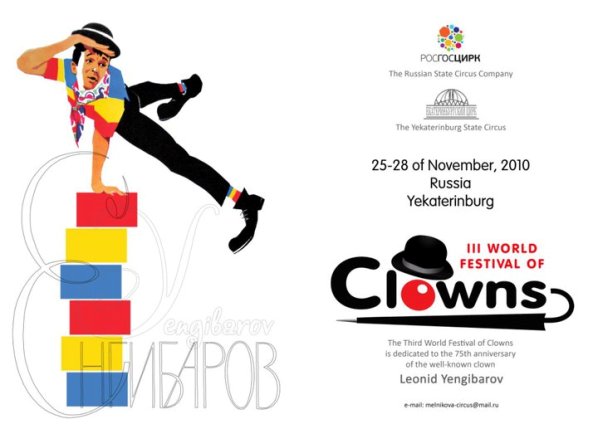 Dear Friends,
We invite you to the THIRD WORLD FESTIVAL OF CLOWNS!!!
From November, 25 to November, 28 visit the Yekaterinburg circus and take part in the GREATEST FESTIVAL OF THE WORLD CLOWNERY!!!
The Third World Festival of Clowns is dedicated to the 75th anniversary of the well-known clown Leonid Yengibarov.
It's the third year the State Circus of Yekaterinburg and the Russian State Circus Company gather their friends from all over the world on one arena – a constellation of the funniest clowns of our age, the best-known and the most talented masters of clownery, prize winners of many international circus festivals and idols of the public.
Participants of this festive carnival are stars of the world clownery from Switzerland, the Netherlands, Great Britain, Hungary, Portugal, Spain, Argentina, USA and Russia.
You don't have to go to Geneva, Amsterdam, London, Budapest, Lisbon, Madrid, Buenos Aires or New York to see any of them! They are all together, in one program!
Yekaterinburg is the first and only city to play host to the Festival such unique, which brings all the best clowns from different countries of the world together on one arena. Their tour schedule is planned for many years ahead! The most popular circuses, variety shows and theaters of the world are eager to make contracts with them. Audience and fans from all over the world cheer them to the echo and admire their skill, devotion and love towards the great circus genre called CLOWNERY.
Only 4 days under the dome of the Yekaterinburg circus you will be granted 120 minutes of laughter with the constellation of the best clowns of the world in a festive and cheerful atmosphere of thunderous ovations and charming magic of humor and clownery.
Fonte: Julia Melnikova
D.D.
11/10/2010 11.17.30
Se questo articolo ti è piaciuto condividilo sui tuoi social utilizzando i bottoni che trovi qui sotto