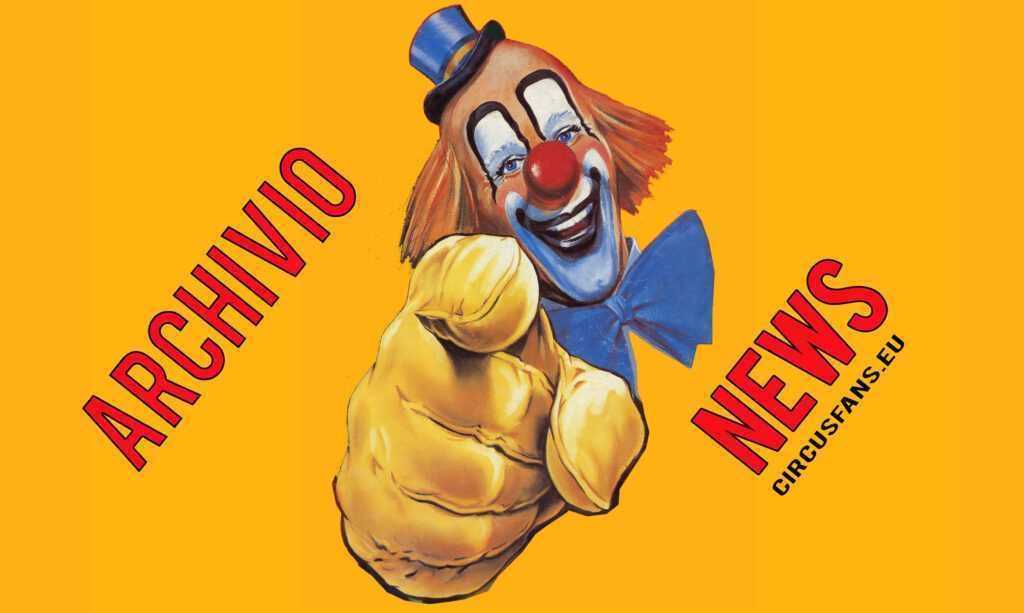 COMUNICATO STAMPA:
AL VIA LA 2a EDIZIONE DEL CONCORSO FOTOGRAFICO MONDIALE
LAURA VAN DER MEER, Executive Director della FEDERATION MONDIAL DU CIRQUE, ci ha inviato il seguente Comunicato Stampa circa il lancio della 2a edizione del Concorso Fotografico Mondiale al via il prossimo 17 aprile, Giornata Mondiale del Circo.
Ricordiamo che nella scorsa edizione, due nostri affezionati collaboratori hanno avuto l'onore di essere premiati con la pubblicazione delle proprie foto: stiamo parlando di ROBERTO ERMANIS con lo scatto realizzato al CIRCO APOLLO e di VINCENZO PELLINO con lo scatto realizzato al CIRCO RONY ROLLER. Riusciranno i nostri amici a essere "premiati" anche quest'anno? Qualcun altro gli "soffierà" l' onore?
Comunque sia, come recita la massima, l' importante è partecipare …..
In bocca al lupo a tutti quanti vorranno partecipare a questa simpatica ed intelligente iniziativa volta a fare parlare del Mondo del Circo in modo diverso dai soliti clichè.
AV
COMUNICATO STAMPA
La seconda edizione del concorso fotografico mondiale si apre il , Giornata Mondiale del Circo
Montecarlo, Monaco – La Fédération Mondiale du Cirque, con il patrocinio di S.A.S. la Principessa Stephanie di Monaco, ha presentato oggi la sua seconda edizione del concorso fotografico mondiale sul circo, che avrà inizio sabato 17 aprile in occasione della Giornata Mondiale del Circo.
Il concorso è aperto a fotografi professionisti e amatoriali, così come a coloro per cui il circo è una passione o un hobby. Il concorso di quest'anno sarà incentrato sulla fotografia a colori e si chiede ai partecipanti di inviare fotografie sul seguente tema: Che cosa rende un circo tale?
Come per la prima edizione, le fotografie vincitrici saranno selezionate da una giuria internazionale di storici del circo. S.A.S. la Principessa Stephanie sceglierà la fotografia vincitrice della categoria "best of the show". Le foto vincitrici saranno pubblicate nel calendario del 2011, che sarà disponibile da settembre 2010. "Il concorso dell'anno scorso è stato un grande successo, poiché i partecipanti provenivano da più di una decina di paesi", ha affermato Laura van der Meer, Direttrice Esecutiva della Federazione. "Quest'anno vogliamo espandere questa base dando inizio al concorso in occasione dei festeggiamenti della prima Giornata Mondiale del Circo".
Le fotografie devono essere a colori e devono essere inviate elettronicamente in formato jpeg all'indirizzo PhotoContest@circusfederation.org entro il . I partecipanti possono inviare fino a 4 fotografie. La richiesta di partecipazione deve essere inoltrata tramite un Modulo Ufficiale d'Iscrizione disponibile sul sito www.circusfederation.org.
La Fédération Mondiale du Cirque è stata fondata nel 2008 e ha sede a Montecarlo. Lo scopo della FMC è promuovere le arti e la cultura circensi in tutto il mondo, sostenere il circo tramite progetti speciali, servire da portavoce della comunità circense e rappresentare gli interessi del circo al cospetto delle organizzazioni internazionali. I suoi sei soci fondatori sono il Festival International du Cirque de Monte-Carlo, la European Circus Association, la Outdoor Amusement Business Association negli Stati Uniti, la Circus Federation of Australia, la Animal Interest Alliance in Sudafrica e l'organizzazione canadese en Piste.
# # #
For more information please contact Laura van der Meer, Executive Director, by telephone at or by email at laura@circusfederation.org
PRESS RELEASE
Monte-Carlo, Monaco – The Fédération Mondiale du Cirque, under the patronage of H.S.H. Princess Stephanie of Monaco, today announced its second annual worldwide circus photo contest that will begin on World Circus Day, Saturday, 17 April 2010.
The contest is open to professional and amateur photographers, as well as circus friends and hobbyists. This year's contest will focus on color photography and asks competitors to submit photos that answer the question: What makes a circus a circus?
Like the first contest, the winning photographs will be selected by an international jury of circus historians. H.S.H. Princess Stephanie will again select the "best of show" photograph. The winning photos will be published in a 2011 calendar, which will be available in September 2010.
"Last year's contest was a great success, drawing entries from more than a dozen countries," said Laura van der Meer, Executive Director of the Federation. "We want to expand that base this year by kicking off the contest during the festivities and publicity surrounding the first World Circus Day."
Photographs must be in color and submitted electronically in jpeg format to PhotoContest@circusfederation.org before 30 June 2010 to be eligible for judging. Photographers may submit up to 4 photographs. Contest entries must be accompanied by an Official Entry Form available at www.circusfederation.org
The Fédération Mondiale du Cirque was founded in 2008 and is headquartered in Monaco. The goal of the FMC is to promote circus arts and culture worldwide, to support the circus through proprietary projects, to serve as a voice for the circus community and to represent circus interests to international organizations. Its six founding members are the Festival International du Cirque de Monte-Carlo, the European Circus Association, the Outdoor Amusement Business Association in the United States, the Circus Federation of Australia, the Animal Interest Alliance in South Africa, and the Canadian organization En Piste.
# # #
For more information please contact Laura van der Meer, Executive Director, by telephone at +32.2.633.1503 or by email at laura@circusfederation.org
02/04/2010 22.36.00

Se questo articolo ti è piaciuto condividilo sui tuoi social utilizzando i bottoni che trovi qui sotto