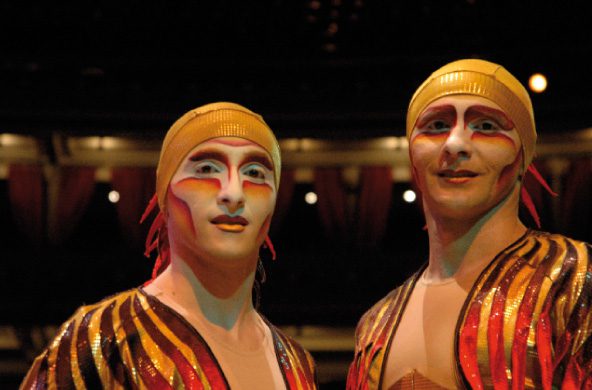 INTERVISTA ON LINE A STEVE BELLO
Steve Bello ci segnala un a bella intervista che lo riguarda apparsa sul sito https://www.booktheact.com. Cogliamo l'occasione per salutare la famiglia Bello, impegnata nello spettacolo Varekay del Cirque du Soleil attualmente a Manchestrern in Inghilterra che ci auguriamo di vedere prima o poi anche in Italia.
Guinness World Record breakers perform with Cirque du Soleil
After a major accident last year, the Steven Brothers are back in full swing in Varekai
Stiv Bello partners his brother Roni in an Icarian Games or Risley act, one of the most difficult circus disciplines, for which they hold two Guinness World Records. They are sixth generation circus artists from the Italian Bello and Casartelli families, who have twice won gold in Monte Carlo. Since 2002, Stiv and Roni have performed in Cirque du Soleil's Varekai, which runs at Manchester's Trafford Centre until March 21
Your father Luciano is a juggler. What made you choose something different?
My family owns a beautiful circus in Italy and when we were kids, they hired the Rios Brothers, a very nice Icarian Games act. My mother said, 'I wish my sons could do an act like this one day'. So my father trained us and we started to practise, practise, practise, watching tapes of many Icarians. I was eight and Roni 13.
Can you describe the act?
Basically, there is a special chair that Roni lies on with his legs up and I sit on his feet. From there I do flip after flip after flip, landing sitting or feet to feet. I also land on one of his feet on my head and do a headstand.
How hard was it to start learning it so young?
This act you have to start very young because it's so difficult. Before they hired us, Cirque du Soleil took two guys from gymnastics and tried to teach them Icarian with a coach, but they couldn't do it. We always trained – and still do – in a harness, because why should we risk ourselves in training when we're risking ourselves in performance?
Why is it usually performed by family members?
Normally it's because it's such a frustrating act and if you have to deal with some accident that happens on stage, you get mad with your partner and after ten minutes your career is finished. But with your brother, you argue, but he's still your brother.
Has anything ever gone wrong?
I had a big accident last summer. I slipped on Roni's feet and fell very badly and broke my nose. I was really bad and just lay there. I was taken to hospital and they were concerned about my neck because I couldn't move. After seven weeks, when I came back, the first two or three shows were hard as I was very nervous.
What do you like about working with your brother?
I don't have to depend on other people. It's really important to have the same mentality about everything in life. Both of us are going in the same direction. We can disagree about something in the act, but in life we have the same opinion. This helps us a lot, for example, when we have a day off or a vacation, we both train because we don't want to get out of shape.
For more details, visit www.stevenbrothers.com
Liz Arratoon
Fonte: booktheact
D.D.
17/03/2010 16.09.34
Se questo articolo ti è piaciuto condividilo sui tuoi social utilizzando i bottoni che trovi qui sotto