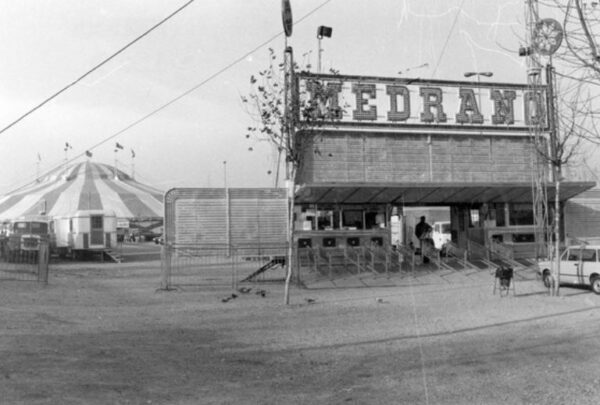 ARCHIVIO STORICO:
LA NUOVA SEZIONE DEL CIRCUSFANS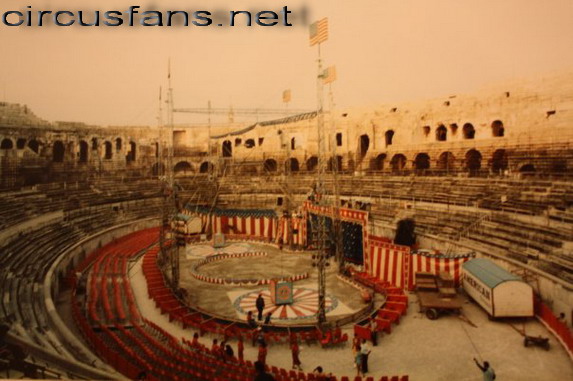 L' American Circus nell' Arena di Nimes
Lo sanno tutti che in occasione dei compleanni e dei festeggiamenti in genere è maludecazione presentarsi a mani vuote, senza un presente piccolo o grande che sia. E' decisamente sconveniente !!! E allora, ecco il nostro regalo alla community del circusfans, un' intera NUOVA SEZIONE chiamata ARCHIVIO STORICO che vuole essere un omaggio alla storia del Circo, un omaggio alle persone e agli artisti che hanno fatto conoscere, apprezzare e prosperare questa antica arte in ogni angolo del globo.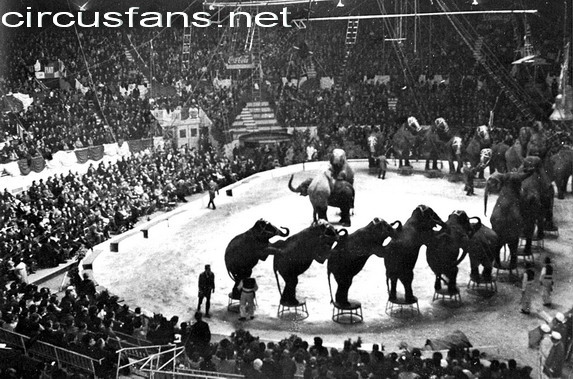 American Circus: il debutto a Torino 1963
L' Archivio è organizzato in tre "capitoli": il primo dedicato alle strutture, la seconda agli artisti mentre il terzo ai video di spettacoli "storici".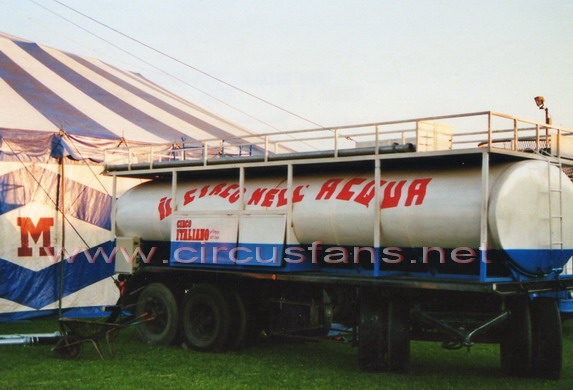 Il Circo nell' Acqua del Medrano in Francia nel 1988
Crediamo che questa nuova sezione assumerà nel tempo sempre maggiore importanza, testimoniando la "ricchezza" che ha reso famosa l' Italia anche in questa particolare e straordinaria arte. Come sempre, nello spirito che ci guida, sono bene accetti i contributi di tutti in modo da rendere anche questa sezione sempre più interessante.

Il "disco volante" del Medrano
Per inviarci Foto e notizie storiche
Per accedere alle sezioni, clicca sui link sottostanti:

Il Circo Nazionale Togni nel 1949
ARCHIVIO STORICO:
THE NEW SECTION OF CIRCUSFANS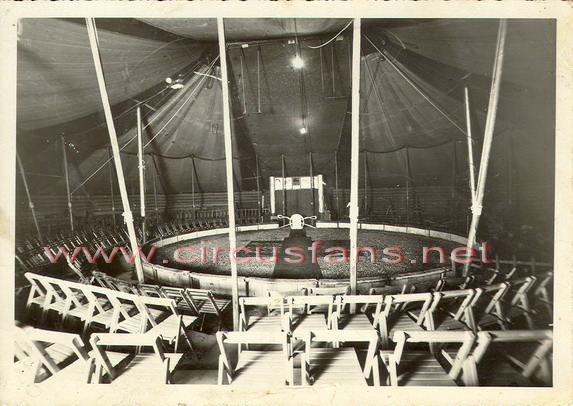 L' interno del Circo Gerard
This section of the Circus Fans wants to be an homage to the history of the Circus, a tribute to the people and artists who have made known, appreciate and flourish this ancient art in every corner of the globe.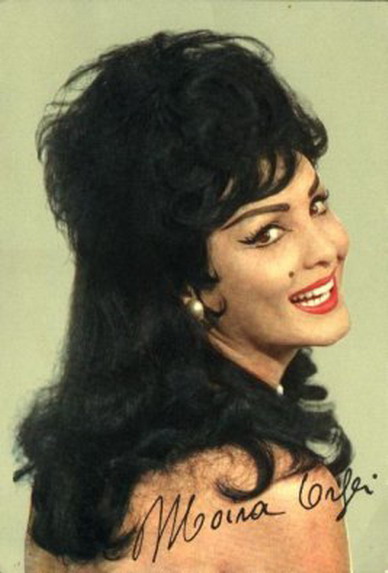 Moira Orfei
This section is organized into different "chapters": the first one devoted to circuses and structures, the second to the artists and the third to the video.

Nando Orfei e Anita Gambarutti
As usual, in the spirit that guides us, the contribution of all those who want to collaborate with us are welcome. The goal is to make this section the reference for the history of this extraordinary art.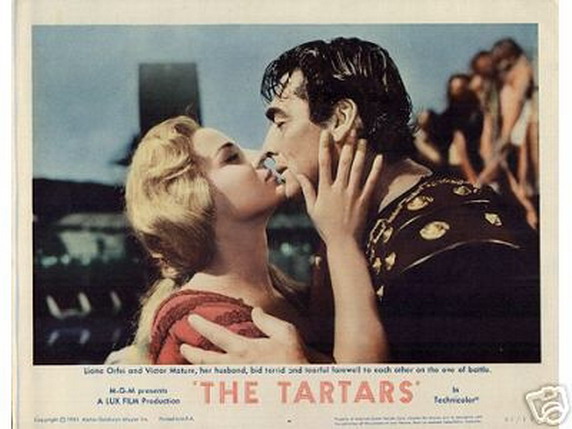 Liana Orfei
If you want to share with us news or photos
please click on the links below to enter:
AV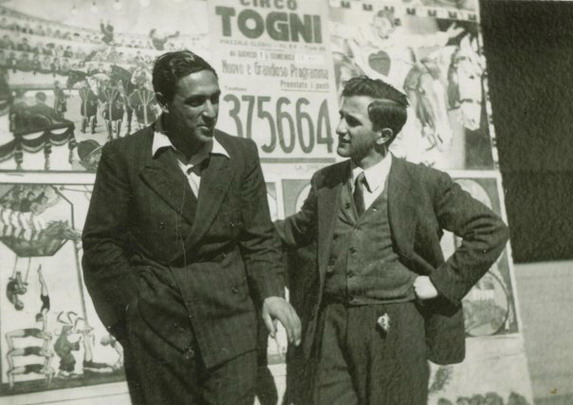 Wioris e Darix Togni

Leonide Casartelli

Pablo Noel: The King of lion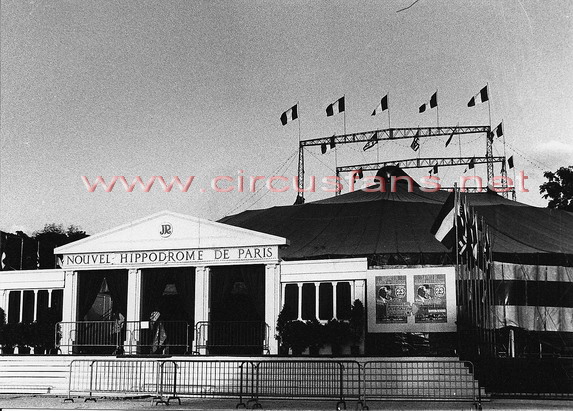 Nouvelle Hippodrome de Paris: lo stabile in Parigi di Achille Zavatta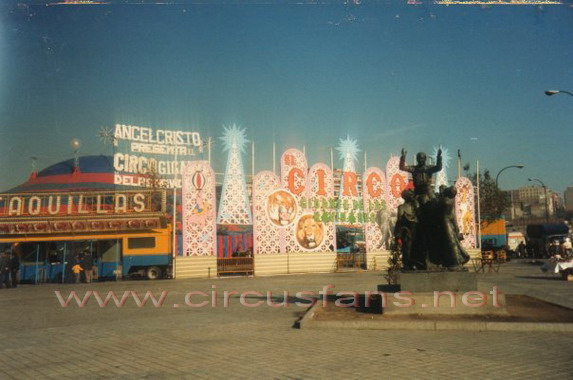 Angel Cristo 1985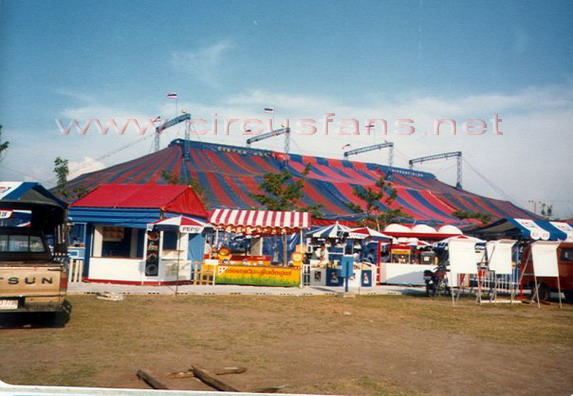 Chipperfield 1986
21/09/2009 20.39.38
ARCHIVIO STORICO: LA NUOVA SEZIONE DEL CIRCUSFANS
Visita la nostra sezione
Se questo articolo ti è piaciuto condividilo sui tuoi social utilizzando i bottoni che trovi qui sotto