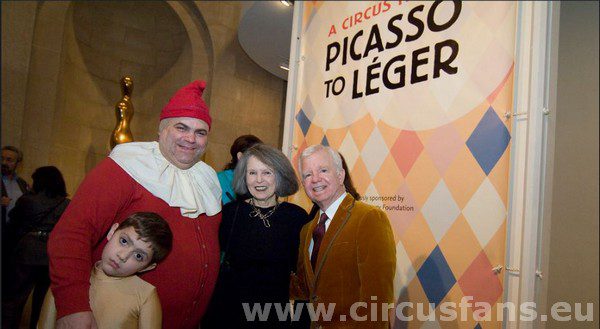 "A CIRCUS FAMILY: PICASSO TO LEGER" A BALTIMORA LA MOSTRA
Roberto di Teodoro ci segnala un'interessantissima mostra che si sta svolgendo attualmente negli U.S.A., più precisamente a Baltimora.
Partendo dal famoso dipinto di Picasso "La Famiglia Acrobata" del 1905 ottenuto in prestito dal Museo dell'Arte di Goteborg (Svezia), la mostra si sviluppa sul tema del circo che ha affascinato decine di autori tra il 1880 e il 1950.
Nell'esibizione, oltre a "La Famiglia Acrobata", vi sono anche "Due Acrobati con Cane" e "Testa di Arlecchino", per citare alcuni tra i 36 dipinti del periodo "rosa" di Picasso (precedente al periodo cubista) e tra i quali fanno parte anche molti ritratti di artisti del Cirque Medrano di Parigi, amici di Picasso, come Gino Severini e Natalia Goncharova.
Altri pittori l'espressionista tedesco Max Pechstein con "Il Circo" del 1918 Otto Dix con "I Rinnegatori della Morte" del 1922 Jules Cheret, "Theatre de l'Opera/Carnaval" (1892).
Non mancano inoltre i famosi posters dipinti da Henry de Toulouse Lautrec per il Moulin Rouge e il Cirque d'Hiver cosiccome lavori di Paul Klee e Fernand Leger, il quale, quest'ultimo, ha celebrato il suo amore per il circo in una raccolta di litografie chiamata "IL Circo" nel 1950. Lo stesso libro è l'ultima acquisizione del Museo di Baltimora in questa inconsueta collezione.>>
La mostra rimane aperta fino al 17 maggio p.v.
Per maggiori informazioni
A Circus Family: Picasso to Léger
February 22–May 17, 2009
Tickets on sale now–BMA Members See it FREE!
Special Ticket Offer for Maryland State Employees!

See daring feats, exotic acts, and colorful circus characters through the eyes of some of the greatest artists of the 20th century. More than 80 paintings, prints, drawings, and books by Pablo Picasso, Henri de Toulouse-Lautrec, Fernand Léger, and other European artists reveal their fascination with the extravagant spectacle of the circus and the bohemian lives of the performers outside the ring. This special ticketed exhibition brings together major works from museums and private collections to offer a behind-the-scenes look at the circus during its heyday as a form of popular entertainment.
Vibrant 19th-century posters of clowns and can-can dancers by Toulouse-Lautrec and Jules Chéret emerge from a semi-circular canvas tent. More than 30 works on paper by Picasso, as well as paintings and sculpture from the collections of the Göteborg Museum of Art in Sweden, The Museum of Modern Art in New York, and the Detroit Institute of Arts, explore the private side of circus life with sympathetic portrayals of circus families, many of whom the artist befriended during his frequent visits to the Médrano Circus in Paris. School of Paris artists such as Gino Severini and Natalia Goncharova and German Expressionist artists like Max Pechstein and Otto Dix created their own fanciful and dramatic circus images. The exhibition concludes with Léger's exuberant book Cirque (1950), a recent addition to the BMA's collection.
Curated by Oliver Shell, Associate Curator of European Painting & Sculpture.
This exhibition is generously sponsored by The Rouse Company Foundation.
Visita la nostra sezione
01/05/2009 22.51.30
"A CIRCUS FAMILY: PICASSO TO LEGER" A BALTIMORA LA MOSTRA
Se questo articolo ti è piaciuto condividilo sui tuoi social utilizzando i bottoni che trovi qui sotto