"ACROBATI" in mostra a Milano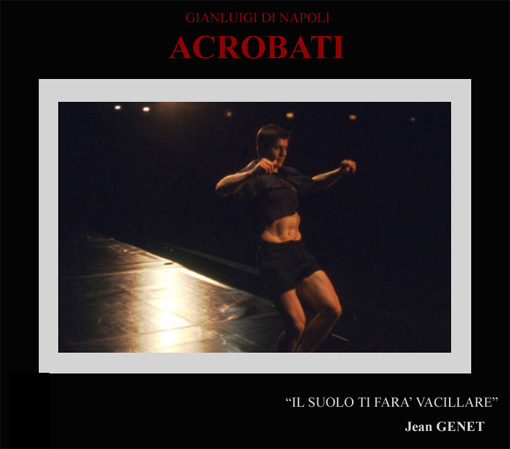 In mostra alla libreria Internazionale Hoepli, via Hoepli, 5 – Milano dal 16 al 21 ottobre 2006. Inaugurazione lunedì 16 ottobre dalle ore 18,00

Questa mostra realizzata in occasione di FotoGrafia, Festival Internazionale di Roma nel 2005, vede una selezione di immagini dedicate al mondo degli acrobati dell'est europeo, da sempre tradizionale fucina di grandi atleti e importanti famiglie circensi. Insieme ad alcuni inediti sono presenti immagini tratte da precedenti lavori, come Circus life – Everynight, all around the world (Edition Stemmle) e Nel cuore di Saltimbanco, la mostra itinerante realizzata in collaborazione con il Cirque du Soleil.
L'empatia per il mondo degli acrobati si rivela in fotografie che vanno dai ritratti realizzati alla troupe Balkansky, famiglia rumena circense specializzata in numeri alla bascula molto spettacolari, alla serie realizzata con gli atleti della Federazione Nazionale Rumena con la produzione Aeros di Moses Pendleton, alle immagini della vita nel Cirque du Soleil, più importante circo contemporaneo.
Le tre serie sono emblematiche dell'incontro tra un mondo puramente sportivo (molti atleti competono in manifestazioni sportive a livello mondiale) e il mondo dell'arte in generale e del circo contemporaneo in particolare, non più a tradizione familiare, ma espressione di un connubio tra performance atletica ad alto livello e spettacolo.
Le immagini sono stampate in carta Fine Art ETCH Fuji Hunt Italia
————————————————-
Da Il Funambolo di Jean Genet (Gallimard, Paris, 1968)
(…) Il suolo ti farà vacillare (…)
(…) Una solitudine mortale. L'angelo si fa annunciare, devi riceverlo da solo. Per noi l'angelo è la sera, scesa sulla pista sfolgorante. Non importa se paradossalmente la tua solitudine è in piena luce e l'oscurità formata da migliaia di occhi che ti giudicano, che temono e sperano che tu cada: danzerai al di sopra e al centro di una solitudine desertica.
La morte di cui ti parlo non è quella che seguirà la tua caduta, ma quella che precede la tua apparizione. Colui che danzerà sarà morto – deciso a tutte le bellezze, capace di tutto. Allora la tua precisione sarà perfetta. Quando nulla ti terrà più legato al suolo, potrai danzare senza cadere. Questa precisione sarà la bellezza della tua danza.
Villania del pubblico: durante le acrobazie più rischiose, chiuderà gli occhi. Chiude gli occhi quando, per meravigliarlo, sfiori la morte. (…)
(…) Di giorno ve ne state timorosi alla porta del circo – senza trovare il coraggio di entrare nella nostra vita – perché i poteri del circo, che sono i poteri della morte, vi trattengono tenaci. Non abbandonate mai quell'enorme ventre di tela. (…)
(…) Voi siete ciò che resta di un'era favolosa. Tornate a noi da molto lontano. (…)
(…) Nulla – soprattutto non gli applausi o le risate – ti impedirà di danzare per la tua immagine. Sarà la tua immagine a danzare per te.
Non danzare per noi ma per te. Non siamo venuti al circo per vedere una puttana, ma un amante solitario all'inseguimento della propria immagine che fugge e si dilegua. Sarà questa solitudine ad ammaliarci.
Entri, e sei solo.
La realtà del circo sta tutta in questa metamorfosi della polvere in pulviscolo d'oro. L'artista dovrà esistere soltanto nella sua apparizione.(…)
(…) Perché danzare stasera? Perché devi trovarti. preda e cacciatore insieme, questa sera ti sei stanato, ti sfuggi e ti cerchi. (…) I tuoi salti – non esitare a considerarli come un branco di animali. In te, vivevano allo stato brado. I tuoi incantesimi li hanno resi mansueti.
Fà che alla prima delle tue capriole – preparata tra le quinte – tutti sappiano che sarà un susseguirsi di meraviglie. (…)
NOTE BIOGRAFICHE
Gianluigi di Napoli è nato in Puglia nel 1962. All'età di vent'anni si trasferisce a Firenze per studiare Architettura.
Qui si crea presto un'ottima reputazione come fotografo nell'ambito della scena musicale e teatrale. Successivamente fonda uno studio di comunicazione visuale e fotografica.
Dopo aver lavorato alcuni anni in Germania, attualmente vive e lavora a Milano. I suoi lavori sono stati pubblicati su diverse riviste internazionali fra cui Vanity Fair Italia, Flair Living, Max, Donna, Zoom International, Mare e Leica International.
E' rappresentato dall'agenzia SUDEST57 (www.sudest57.com)
https://www.gianluigidinapoli.it
ESPOSIZIONI
– 1992 Il Grande Vetro, Luisa via Roma – Firenze
– 1996 Schwarz auf Weiss, Culturstube Hochberg – Wurzburg
– 2001 Circus Life -Everynight, all around the World, O' Artoteca – Milano
– 2002 Circus Life-Everynight, all around the World, Chapiteau del
Circo Medrano – Milano
– 2002 Circus Life-Everynight, all around the World, Libreria
Internazionale Hoepli – Milano
– 2003 Trasformazioni, Libreria internazionale Hoepli – Milano
– 2003 Animal House, Spazio espositivo Abbey National Bank – Milano
– 2004 Circus Life-Everynight, all around the World, Pinacoteca
Civica – Pieve di Cento
– 2004 Circus Life-Everynight, all around the World, Galleria C. 30 – Bologna
– 2005 Luna Park, spazio Exotisme – Milano
– 2005 Cirque du Soleil – Nel Cuore di Saltimbanco (in collaborazione con il Cirque du Soleil), Supperclub – Roma
– 2005 FotoGrafia, Festival Internazionale di Roma – Acrobati, Supperclub – Roma
– 2005 Au cœur de Saltimbanco – Atelier Renault, Avenue des Champs Elysées, Parigi
"ACROBATI" in mostra a Milano



Si ringraziano: 
Marco Finazzi
Carlo Polvara di Imprint
La mostra è stata realizzata grazie alla collaborazione con Fuji Hunt Italia.

"ACROBATI" in mostra a Milano
Se questo articolo ti è piaciuto condividilo sui tuoi social utilizzando i bottoni che trovi qui sotto